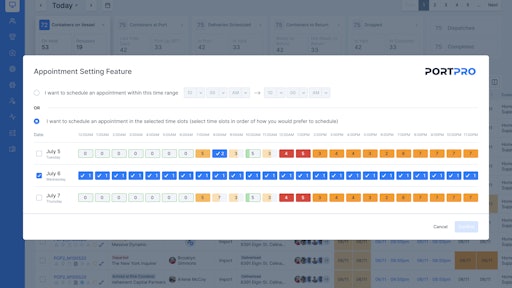 PortPro
PortPro released Automated Terminal Appointments, designed to streamline dispatch operations.
"The current market is volatile and creating fierce competition as carriers fight to keep their business growing," says Michael Mecca, PortPro's founder and CEO. "Giving drayage carriers the ability to now automatically book appointments at terminals will help them reduce demurrage and per diem charges their customers incur related to not being able to get appointments and save hundreds of hours per year doing this tedious task manually."
Key takeaways:
Automated Terminal Appointments requires port appointments as part of a carriers' operations.

Automated Terminal Appointments integrates appointment booking directly within a transportation management system (TMS) to save both time and effort.
Automated booking features lead to a reduction in operational costs and elevate customer experience through timely deliveries and reduced delays.