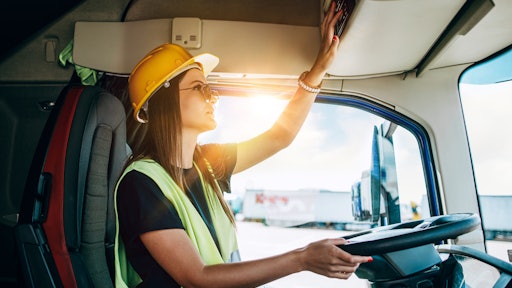 Dusko AdobeStock_424011513
The food supply chain serves as a vital part of the economy and is one of the most complex and regulated freight sectors. In addition to ongoing industry challenges like increased demand, labor shortages and limited visibility, logistics providers in the food and beverage vertical face challenges unique to the sector. Limited shelf life and the risk of spoilage emphasize the non-negotiable need for timely delivery. Food safety regulations dictate strict protocols for handling and transporting cargo and seasonality affects where suppliers are located and how far loads have to travel.
To accommodate these complex challenges, logistics providers in the food and beverage industry need comprehensive training, skilled team members and the right equipment to help them plan, prepare and be proactive.
Focus training on communication
Logistics workers are expert problem solvers, but also must thrive in communications. Collecting and effectively relaying information is a key part of the job. Coaching team members to ask the right questions and share load information effectively is critical.
Third-party logistics (3PL) providers are responsible for maintaining a constant flow of communication between customers and carriers through all stages of a load. The 3PL provider provides all necessary details to carriers for the success of every load, including scheduling appointments, getting updates from drivers and more.
Logistics professionals must evaluate problems from multiple angles to find the best solution. Not only do employers need to teach logistics teams the right questions to ask, but they also must empower their teams with the skills to locate any missing pieces.
Clear and established communication processes are also essential to training. As the central hub of supply chain operations, logistics is responsible for coordinating everyone's efforts from start to finish.
Skilled third parties act as an extension of your brand
Logistics companies work with a lot of people outside of our direct employees, like carriers and loading crews. While not under our direct employ, they are still viewed as an extension of our business. A thorough vetting process is essential to ensure the quality and standards of your brand are consistent throughout the customer journey. Carriers, in particular, need to be examined with a particularly critical lens. In addition to being a good fit for your brand, they also need to be a good fit for your customers.
Another thing we look for, and is a bit harder to measure, is awareness. Carriers act as the eyes and ears of our logistics team while on the road. Food and beverage, primarily produce and temperature-controlled loads, are examples of very high-touch freight. This sector needs professional drivers to be aware of the temperature at loading to avoid spoilage and to monitor for any glitches along the route. It also needs the freight to arrive in the same condition as it was when loaded. If the supplier is late, drivers need to notify the company. The smallest factors can alter the outcome of a shipment, and carriers must maintain awareness about the full scope of details to ensure success.
It's also drivers' responsibility to set clear expectations for carriers. Before assigning carriers to loads, team members should talk the carrier through a detailed step-by-step process, so they know what to expect at each point of the route, what to look for etc.
Technology centralizes and scales operations
Advancements in technology over the past few decades have pushed logistical capabilities further than ever. Real-time tracking and GPS have improved supply chain visibility, enabling providers to track cargo from departure to delivery in real-time. Logistics portals and transportation management systems (TMS) consolidate all moving parts of the process into one accessible location, reducing room for error and making it easier to get an overhead view of operations. It also helps to record valuable trip data.
Data has served as the most important area of innovation. Not only do companies have the ability to capture and assess more data than ever, but advances in machine learning and analytics can turn it into actionable insights. These insights allow carriers to improve operational efficiencies, reduce costs and expand operations at a massive scale. Those who wield it well are differentiating themselves in the industry, adding tremendous value to existing business relationships and presenting a strong case for new ones.
Navigating the numerous challenges of the food and beverage sector requires an enormous and coordinated effort. For example, teams can stay ahead of the curve by leveraging artificial intelligence (AI) technology to maximize return in the fluctuating market. Companies do this by filtering their dedicated book of business through AI to automatically cover loads through filtered carriers or company drivers.
To continue leading the charge, it's important to instill strong communication skills within teams and ensure skilled labor is at every point in the supply chain. By equipping themselves with the tools to keep pace with the growing complexity of the economy, companies can continue staying ahead.