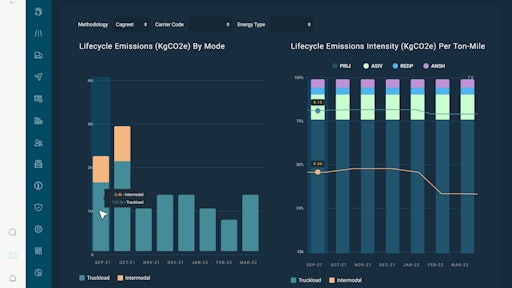 Breakthrough
Breakthrough launched CleanMile, an end-to-end Scope 3 transportation emissions management solution for shippers across all industries.
"Organizations wanting to reduce scope 3 emissions historically had no way to inform, track or manage these initiatives," said Heather Mueller, chief marketing and product officer of Breakthrough. "CleanMile enables shippers to gain control of transportation emissions by analyzing shipment-level data to inform reduction initiatives and working with our team to build and execute a reduction roadmap."
From BusinessWire:
Accessible through FELIX,

Breakthrough's

transportation intelligence platform, CleanMile is said to be the first solution to track, analyze and report carbon emissions, create an emissions reduction roadmap and execute actionable scope 1 and 3 transportation emissions reduction initiatives.
CleanMile provides actionable and data-driven recommendations for emissions reduction based on a shipper's transportation network and specific sustainability goals. The service provides a detailed picture of a transportation network's lifecycle emissions, serving as a guide for future expansion.
"For nearly two decades, we've partnered with our clients to build and execute effective strategies in transportation energy and network management," says Mueller. "As we look toward the future, we are proud to provide the solutions our clients need to truly take control of their transportation emissions and make their corporate sustainability goals a reality."