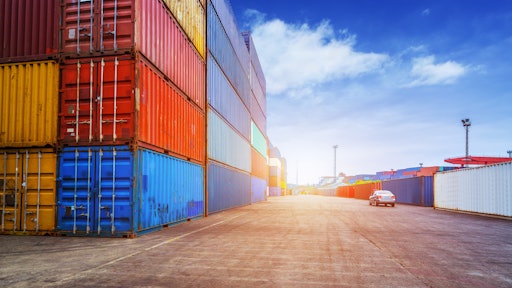 zhu difeng AdobeStock_84691685
Shipping lines and container owners in North America are finding it difficult to return containers to China, according to Container xChange. What's more is, the United States is also facing major trucking issues, making cargo movement within the country difficult.
"What is happening in the U.S. is that there is already congestion, like every year, because it is the peak shipping season, and everyone is trying to make sure that retailers have enough inventory on the shelves for the upcoming holiday and Christmas season. The U.S. West coast labor negotiations due to which many freight forwarders rerouted the cargo to the U.S. East Coast have now caused congestion on the U.S. East coast too. Hinterland complications like acute shortage of truckers and rail delays are adding to the woes. All in all, there are many challenges that will impact a smooth container movement into the peak season," says Christian Roeloffs, co-founder and CEO, Container xChange. "Empty containers piling up at the depots in the U.S. and containers stuck on the sea (owing to the congestion) will contribute to capacity being tied up."
From Container xChange:
The average container prices for cargo-worthy containers of all types in the region rose from $2,116 in July to $2,214 in August.

The ports on the East Coast and West Coast are experiencing an increase in average container prices, while these average container prices are declining worldwide.

In North America, the U.S. saw a 7.3% increase in per-month trading prices for cargo-worthy containers of all types. Canada, on the other hand, saw a 15.28% dip.
"On the supply side, there is an excess of containers while due to recessionary fears and inflation, the consumer demand has softened. Nonetheless, we are sliding into the peak season, and this is the busiest season of the year. The average container prices traditionally increase in China and Southeast Asia during the peak shipping season, and we do expect to see a rise in the prices in the coming weeks. In the mid-term, what could possibly change this year is the relatively smaller degree of increase in average container prices owing to several disruptions."