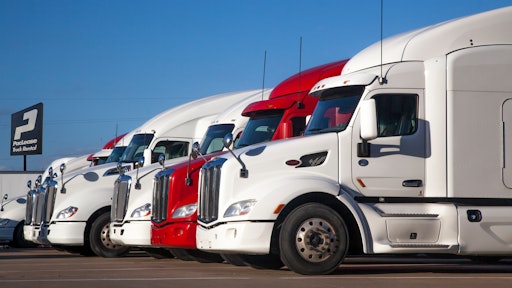 PacLease
Parts shortages, inflation, labor shortages, fuel prices and now rising interest rates have all contributed to creating the perfect storm for those in the supply chain. Before the Coronavirus disease (COVID-19) pandemic, no one could have imagined the onslaught of challenges the industry would face and continue to face. But here we are.
It's been an especially difficult time for private fleets and trucking companies looking to add or replace existing trucks with new equipment. Equipment and truck parts availability and costs continue to be an issue. New trucks are more expensive than they were just a couple of years ago and used trucks are experiencing historic price hikes. In fact, in just the past year, the average cost of a used truck increased from $48,190 in January 2021 to $88,293 in January 2022, according to a report by ACT Research. A price jump of more than 83%. For those that rely on the used truck market to acquire equipment without the upfront cost of purchasing new, finding a good deal is near impossible.
There are many contributing factors that continue to push the rising costs of equipment, and soaring inflation is one of them. The Federal Reserve recently began to increase interest rate, and as the central bank of the United States tries to slow inflation,­ more rate hikes are expected. As a result of rising interest rates, the cost of financing equipment is going up. Lenders who often flood the market during the 'good times' of low-interest rates appear to be peeling back, which gives fleets fewer options to select from and lock in competitive financing. Time will tell what effect these interest rate hikes have on the overall economy.
Predicting truck operating expenses – like maintenance and parts costs -- and forecasting customer demand, especially in this economic climate, is challenging. For those seeking more stability in accounting, managing equipment or more flexibility for right-sizing fleet (ability to scale the size of the fleet up or down) based on demand; leasing, or renting trucks is a viable option worth considering.
Full-service leasing is a great alternative to owning trucks for those who want simplified cost accounting, as monthly leasing rates are predefined for the term, so there are no surprises or fluctuations due to unexpected maintenance costs. Lease payments are lower due to leveraging the lessor's buying power, maintenance expertise and resale capabilities. The lessee also avoids having to pay for the full cost of purchasing outright. Truck maintenance, substitute vehicles and emergency roadside assistance are all bundled into a convenient predictable monthly payment.
For companies, particularly those whose primary business isn't trucking, the upfront capital retained by leasing and/or renting trucks can instead be used to address other areas of the business. Plus, more time and energy can be spent on other core functions of the business instead of managing and maintaining equipment. For trucking companies that rely on purchasing used trucks to replace or add trucks to their fleet, leasing in this current market may serve as a substitute to avoid potentially overpaying for used equipment. Leased trucks are new, therefore more reliable and backed by managed maintenance through the leasing company, therefore fleets don't have to worry about maintenance issues coming up early as might be the case with a newly acquired used truck.
For many fleets operating in over-the-road or vocational applications, owning trucks is traditionally part of the company culture and having complete financial control over the trucks is appealing to many fleet owners. But not all aspects of truck ownership are appealing. As technology in trucks becomes more sophisticated and more difficult to service, those with in-house maintenance facilities and staff are finding it harder to keep up with maintenance programs. The resources, hiring and training of staff needed to service new trucks are quickly outweighing the benefits of working on equipment in-house.
Some fleets that own and lease a portion of their fleet are moving to what's called an "unbundled lease," where company-owned trucks receive the same benefits as leased trucks with the leasing company managing maintenance programs and providing replacement vehicles. Many leasing companies offer these types of programs and it's an effective way to consolidate and manage maintenance programs and costs.
Renting trucks can be a good alternative for companies that experience more volatility in customer demand or work in industries that experience seasonal spikes,­ like those working in agriculture and operating additional trucks during harvest season. The shorter-term agreements allow companies to more easily scale up or down the size of their fleet to meet demand.
Buying used vehicles to support fleet operations is often a popular way for companies to address fluctuating fleet size, although when those vehicles aren't being used, they're a depreciating asset. If the company has plans to run a new or used truck for a number of years or doesn't mind finding the next buyer, purchasing trucks may be the better option. But given the current market, particularly for used trucks, good deals to replace or add units may be tough to come by. Rental trucks may be able to help provide a long-term solution for addressing temporary transportation needs or bridge the gap until the truck market becomes more buyer friendly.
As the industry continues to work through these unprecedented times and economic constraints, eventually, we'll get back to the days of more normal operating conditions. There's no perfect solution for fleets to overcome all the challenges they're faced with, but depending on the operation, incorporating leased or rental trucks into the business may help improve operational efficiencies and better track operating costs.