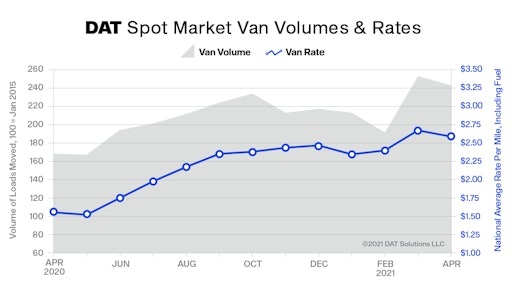 DAT
Truckload freight activity dropped in April, though the month was still the second busiest month on record for shippers, freight brokers and motor carriers, according to DAT Freight & Analytics.
In April, the company registered 225 an aggregated measure of dry van, refrigerated ("reefer") and flatbed loads moved by truckload carriers, down 5% from the high set in March this year.
"It's not unusual to see a decline from March to April, but truckload freight activity remained at historic levels compared to previous years," said Ken Adamo, Chief of Analytics at DAT. "The April TVI was 39% higher than it was in April 2020 and April 2018, and 26% higher than in April 2019, indicating unusually strong demand for truckload capacity last month. Trucking companies are in the driver's seat with respect to pricing power."
The national average spot rate for van loads on the DAT One load board network was 8 cents lower than the March average at $2.59 per mile, but the second-highest monthly average van rate on record.
The national average spot reefer rate was $2.93 per mile, 2 cents lower than in March, while the spot flatbed rate averaged $2.96 per mile, 18 cents higher month over month.
Supply chain imbalances due to commodity shortages for manufacturing and the reopening of long-shuttered offices and service businesses have led to increased use of the spot market. In most years, 12 to 15% of truckload freight moves on the spot market; that figure is closer to 25% today.
During the first week of May, the volume of load posts on DAT One was 36% higher compared to the same period in 2018, when spot truckload freight activity followed a more typical pattern.