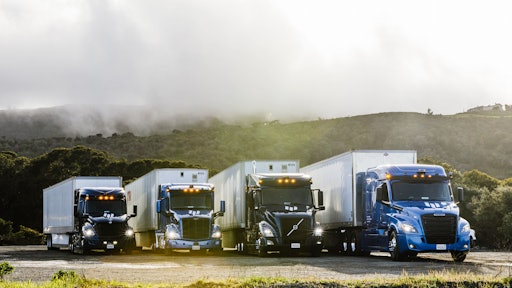 Embark
Embark launches its universal interface hoping to expedite the growth of driverless technology across the trucking industry, as it integrates with major truck OEM platforms such as Freightliner, International, Peterbilt and Volvo trucks. The interface is an interoperable self-driving stack that can integrate autonomous technology into trucking vehicle's platforms. Embark hopes that its ability to interact with all four major platforms will give autonomy a leg up in the industry. The news follows Embark's previous announcement with the Arizona Department of Transportation on the creation of a Memorandum of Understanding to promote the continued safe interaction between automated commercial vehicles and highway work zones in Arizona.
Per Embark: 
The EUI achieves its universality through a two-part design. Part one consists of a standardized components package – sensors and compute system – which have been determined through thousands of hours of design, testing, and analysis. Between these standardized components and the truck is part two of the EUI design, a set of physical, electrical, and software interfaces that enable the standardized components package to connect to and communicate with any OEM platform's steering, braking, throttle, telematics, power, chassis, and HVAC. This two-part approach, standardized components and flexible interfaces, achieves the best of both worlds for Embark and OEMs. At the center of the interface package is the Embark Gateway, an automotive-grade ECU developed by Embark to enable API communication between Embark's technology and any OEM platform.
Embark's long-term vision is for OEMs to integrate Embark's technology with their truck platforms, which the OEMs will then sell with the maintenance and warranty support carriers demand. Embark supports this model and undertook the EUI effort to accelerate this process. The benefits of the program for Embark and the freight ecosystem manifest themselves in both the short-term and long-term.
"The launch of EUI opens the door to a much larger market opportunity for Embark by making their self-driving technology platform-agnostic," says Pat Grady, partner at Sequoia Capital. "We've seen time and time again how the emergence of an open platform can serve as a galvanizing force in fast-developing markets, and this breakthrough technology from Embark has a chance to do the same for what's historically been a complex and fragmented industry. This is a huge step forward both for Embark and for the entire trucking industry."