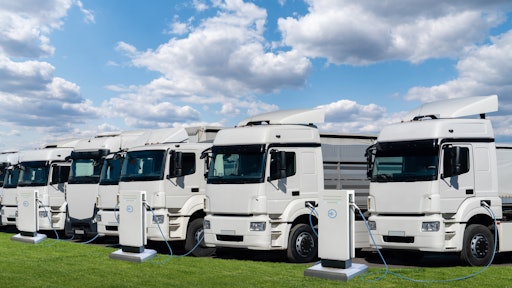 scharfsinn86 AdobeStock_514644993
For the past 3 years, the trucking industry has faced numerous challenges stemming from the onset of COVID-19. However lately, the disruptions have become more… disruptive and less predictive.
Present day, it's not just a lack of visibility that's creating bottlenecks along the way; today's challenges run deep, are more personal and stem from a variety of causes such as the passage of certain laws, the lack of agreements to better protect contract workers and more.
And, sometimes even the most cutting-edge technology can't predict what's going to happen next.
Marina Mayer, Editor-in-Chief of Food Logistics and Supply & Demand Chain Executive, talks exclusively with Nate Springer, VP market development at Gladstein Neandross & Associates, and project director of the State of Sustainable Fleets report, details why zero-emission vehicles must be on the radar of all trucking companies today.
CLICK HERE to read the article in full.
Food Logistics: The California Air Resources Board voted unanimously to finalize its Advanced Clean Fleets rule, which requires all new medium- and heavy-duty vehicles sold or registered in the state of California to be zero-emission come 2036. What does this mean for the future of trucking and transportation?
Nate Springer: Zero-emission vehicles must be on the radar of all trucking companies today. For large companies and those with drayage operations in California ports, the time is now to begin planning for adoption. California is not alone: 13 other states and the District of Columbia have a history of adopting California's zero-emission regulations. These states will surely be monitoring the ACF in California and evaluating whether it makes sense for them. Zero-emission battery electric and hydrogen fuel cell technologies are new to the medium- and heavy-duty fleet industry, so fleets will need as much time as possible to learn the technology and where it does and does not yet fit into their operations, so that they can begin to pilot and adopt.
Food Logistics: Electrification in trucking continues to become more prevalent. In fact, the Infrastructure Investment and Jobs Act (IIJA) allocated $7.5 billion to establish long-distance EV traveling and install charging stations near residences or workplaces. What is your take on the future of EVs, and how likely is the supply chain industry in adopting this alternative fuel source?
Springer: Zero-emission technologies are the future of transportation, but it's a matter of when and where these technologies will become dominant first. Funding from the IIJA is initially focused on light-duty transportation corridors. California and these corridors are likely to become the earliest adopters of ZEVs across all weight classes, starting with lighter applications. The states that follow California's regulatory lead, such as the entire West Coast, Colorado, many New England states will likely see the next phase of adoption. Certain heavy-duty applications, such as high utilization material handling equipment, and dedicated regional distribution operations, are likely to be the earliest heavy-duty segments to transition entirely to battery-electric technologies. Eventually, we expect to see hydrogen fuel cell vehicles as the zero-emission technology of choice for over-the-road lanes if vehicle and fuel costs become significantly more competitive.
Food Logistics: Mobility-as-a-Service (MaaS) is also on the rise. Describe what this means for the cold food chain?
Springer: MaaS, trucking as a service (TaaS), or charging as a service (TaaS) providers of zero-emission equipment who can specialize in the cold storage needs of the food value chain will begin to shoulder some of the risk, cost, and complexity of transitioning to ZEVs for fleet operators. Just as in any new service that comes to market, some food and beverage fleets will want to take operations on entirely in-house and others will outsource significant portions of these activities to providers that can prove reliability and performance.
Food Logistics: What are some things not addressed above that may be pertinent to our readers?
Springer: New, very stringent air quality performance requirements for diesel engines from the EPA and California Air Resources board are expected to increase costs of diesel vehicles and maintenance. Fleets "sitting on the sideline" of clean technology adoption will likely find that their capital and operating costs will rise even if they choose not to act.
Leading customers and food and beverage fleets, including many of the largest companies in the world, are setting aggressive greenhouse-gas emission goals and looking for their food and beverage fleet customers to partner with them to meet those goals. Greenhouse gas emissions is increasingly a competitive reality for food and beverage fleets, whether by way of keeping up with and staying ahead of competitors or meeting customer expectations.
It's also important for fleets to pay attention to near-zero emission technologies, including compressed natural gas and propane, that are already at cost parity or superior to diesel operations in numerous applications. The CNG and propane industries have matured and innovated to the point that they offer a solution for nearly every need and fleet size, whether a fleet wants to purchase and own their own vehicles and infrastructure or rely on partners to take on the investment.
CLICK HERE to read the article in full.