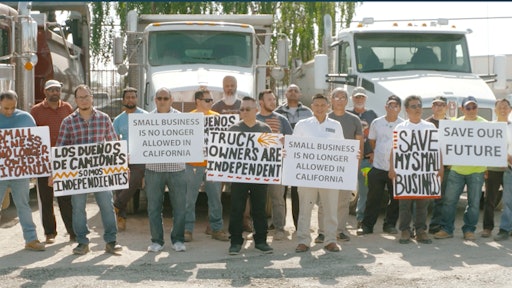 California Trucking Association
Truckers continue to protest AB5, blocking other drivers, stalling cargo and "further exacerbating the congestion of containers dwelling at the Oakland Seaport as port officials urge terminal operations to resume," according to the Port of Oakland.
"We understand the frustration expressed by the protestors at California ports," says Danny Wan, executive director, Port of Oakland, "But, prolonged stoppage of port operations in California for any reason will damage all the businesses operating at the ports and cause California ports to further suffer market share losses to competing ports."
AB5, known as the "gig worker" law, was introduced in 2018 to make gig-centric corporations, like rideshare companies, provide their contractors with more worker protections. Doing so reclassifies some contractors as employees, which then would remove independent owner-operator status of independent truck drivers.
In June, the U.S. Supreme Court denied the California Trucking Association's case challenging California's Assembly Bill 5 (AB 5) law.
"Gasoline has been poured on the fire that is our ongoing supply chain crisis. In addition to the direct impact on California's 70,000 owner-operators who have seven days to cease long-standing independent businesses, the impact of taking tens of thousands of truck drivers off the road will have devastating repercussions on an already fragile supply chain, increasing costs and worsening runaway inflation," according to a statement from California Trucking Association. "We are disappointed the Court does not recognize the irrevocable damage eliminating independent truckers will have on interstate commerce and communities across the state. The Legislature and Newsom Administration must immediately take action to avoid worsening the supply chain crisis and inflation."
"Truckers are vital to keeping goods moving," says Wan, "We trust that implementation of AB5 can be accomplished in a way that accommodates the needs of this vital part of the supply chain."
In a letter to trucking partners, Wan "respectfully asks that each independent owner/operator cease any further protest activity that disrupts port operations and the flow of commerce at the seaport."
"We must all get back to normal operations! We support your first amendment right for peaceful demonstration. However, as we discussed, even before your demonstrations began, the supply chain locally to globally was already congested," he adds.
Follow up-to-the-date news surrounding the AB5 law.