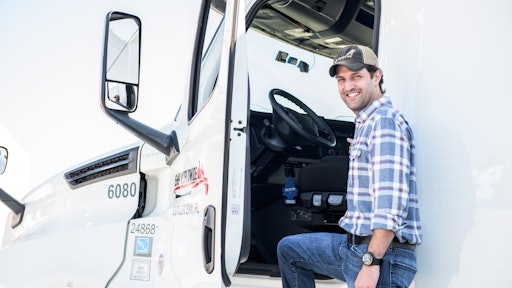 SmartHop
The trucking and transportation industry has been plagued by a series of supply chain challenges. The driver shortage. Increased wages. Rising fuel prices. Rising cost of goods. Ingredient shortage. Supplies shortage. Canada-border protests. Increased shipping costs. The list just. Keeps. Going.
But, it's the driver shortage creating the biggest impact.
In Food Logistics' July/August 2022 issue, editor-in-chief Marina Mayer talks with several industry experts about the trucking industry's wins and woes and how, despite continuous supply chain challenges, the transportation sector keeps driving forward.
Here's an interview with Guillermo Garcia, CEO and co-founder of SmartHop, who explains the cyclical nature of the trucking industry and why it's important to stay positive and plan for the future, with excerpts publishing in Food Logistics' July/August 2022 issue. [CLICK HERE to read the article in full].
Food Logistics: Let's talk fuel prices. Currently, the national average is sitting at $5.12 a gallon for diesel fuel. How are the rising fuel costs impacting your company?
Guillermo Garcia: Rising fuel costs are hurting our customers -- owner-operators and small carriers. According to our latest report, the Top 3 challenges for small carriers are:
Finding discounted fuel

Finding discounted insurance

Finding support with finding and booking high-quality loads
Filling up the tank has become a complicated math problem for truckers who do not work for a large company. They need a better understanding of where they need to fuel because they also need to pay a tax on fuel (International Fuel Tax Agreement or IFTA) at the end of the month, which varies state by state. So even if it's cheaper to fuel in Georgia, for example, our customers may want to fuel in Florida if the IFTA is lower. However, this is very difficult to calculate. They need to determine the miles driven through each state and pay those taxes.
While SmartHop's technology allows truckers to save on their overhead costs and increase their topline revenue, it's not easy for our customers to manage their business when costs of fuel keep climbing. Rates in the spot market have fuel prices baked into them. Those rates don't accurately reflect rising fuel prices because of lag times. Small carriers don't have the benefit of fuel surcharges, which mitigates the gas price fluctuations that larger carriers do. On top of that, the spot market is facing a downturn, meaning rates aren't as glamorous as the last two years. This makes it harder for small fleets and owner-operators to negotiate rates.
Food Logistics: The Trucking Action Plan. How will this and other programs help curb the driver shortage? From where you sit, what else needs to be done?
Garcia: These plans are great for the long term as they help focus on the areas where truckers struggled the most -- job quality and training. But typically, these plans benefit private fleets and publicly traded companies looking for drivers. There are more immediate ways the government can help small carriers. For example, they can provide support for small trucking companies by:
● Subsidizing fuel tax for companies with less than 10 trucks until fuel prices come back down
● Offering contracts to small trucking companies so they can haul government freight at quality rates
● Making low-cost loans available to owners of small fleets and independent trucking companies who are struggling through this looming recession, continued inflation and a decreasing spot market.
Food Logistics: What are some things not addressed above that may be pertinent to our readers regarding transportation trends and technologies in the cold food chain?
Garcia: When small carriers and owner-operators are battling against a market downturn, rising fuel prices and continued inflation, it's easy for these truckers to be more selective about their loads. But they can't run empty miles because every minute they're idle, it means they aren't making money. It's important for these truckers to understand their operating costs inside and out. This will help them identify the minimum amount they need to earn to keep their business up and running.
And lastly, stay positive and plan for the long term. The trucking industry is cyclical in nature, meaning the boom truckers have experienced in the last two years was bound to come back down. The opposite will also be true as well.
[CLICK HERE to read the article in full].