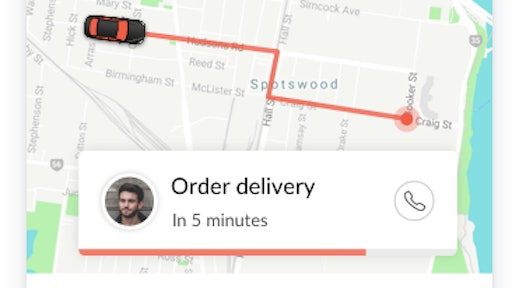 Polaris Transportation
The trucking and transportation industry has been plagued by a series of supply chain challenges. The driver shortage. Increased wages. Rising fuel prices. Rising cost of goods. Ingredient shortage. Supplies shortage. Canada-border protests. Increased shipping costs. The list just. Keeps. Going.
But, it's the driver shortage creating the biggest impact.
In Food Logistics' July/August 2022 issue, editor-in-chief Marina Mayer talks with several industry experts about the trucking industry's wins and woes and how, despite continuous supply chain challenges, the transportation sector keeps driving forward.
Here's an interview with Dave Brajkovich, chief technical officer, NorthStar Digital Solutions, who details why shippers need transparency from their carriers, with excerpts publishing in Food Logistics' July/August 2022 issue. [CLICK HERE to read the article in full].
Food Logistics: In recent weeks, several motor carriers have announced their intentions to add electric trucks to their fleets. What will the stride toward electrification do to the transportation industry? The future?
Dave Brajkovich: Our focus is to look at the clearest path to add sustainability value overall. We are planning to execute a plan on getting our Shunt trucks electrified. With constant moves in the yard for up to 12 hours a day, the emissions we hope to reduce from the current diesel-powered vehicles will be significant in reducing our carbon footprint.
Food Logistics: What is your company doing to achieve a more sustainable fleet? Please provide press releases if necessary.
Brajkovich: Looking for ways to replace our current diesel-powered fleet with electric vehicles, we are working on a plan that will give us improved sustainability for long-term return. Our plan is looking out to 2030 to be fully compliant.
Food Logistics: Canada moved the date for full enforcement of its electronic logging device mandate to Jan. 1, 2023. How will this mandate impact your company and the way it does business across the border? Please detail pros/cons.
Brajkovich: This mandate will have little effect on our business. We are a cross- border carrier and our mandate for ELDs was accomplished three years ago when we moved all our line haul equipment on to ELDs with great success and adoption. We have since ensured to equip our local city fleets with ELD's within the regulated ranges of miles driven.
Food Logistics: What kinds of technologies are in place to help autonomize trucking?
Brajkovich: We have many automation tools to help our organization move toward a digital work environment. We have implemented and expanded a full suite of automation tools such as intelligent document automation with robotic process automation and machine learning. This allowed us to remove the heavy labor elements from our people by 80% and provided the opportunity for our teams to focus on client relations and operational efficiencies. We also automated many other functions such as rating and quoting for our clients. We now have our robotic platforms sending 30-50% of our quotes to the clients rather than having our very critical rates folks managing straight-through processes. Our ROI returned a higher order close rate to a tune of 25% from the original 8-10%.
Food Logistics: Let's talk fuel prices. Currently, the national average is sitting at $5.12 a gallon for diesel fuel. How are the rising fuel costs impacting your company? And, what does this mean for the future of electrification?
Brajkovich: It is getting to a point where gas prices are increasing costs for everything material. If this keeps up the pass through additional charges will inflate more and more of our economic situation. As far as sustainability is concerned, we are still a ways from a complete turnover. Infrastructure and cost are still not at the peak levels needed for electrification. However, we are still geared toward a carbon-free environment that all of us can enjoy and prosper from.
Food Logistics: What are some things not addressed above that may be pertinent to our readers regarding transportation trends and technologies in the cold food chain?
Brajkovich: Transportation requires more digitization in ways that other industries have adopted for scheduling and capacity. With today's supply chain challenges, shippers need carriers to share their capacity transparently in order to give shippers the opportunity to set their delivery expectations appropriately.
For many years, commercial transportation was thought to have infinite capacity. Carriers for the most part would never refuse an order even though a delivery date may be at risk due to capacity constraints, and if so, the client would be informed after the fact. Currently, where digital data can be shared quite easily, there is no reason this couldn't be transparent.
We at Polaris Transport and NorthStar Digital have developed a dynamic capacity application that allows our clients to choose. We effectively share our capacity with them. We advise the client as such. Although we appreciate their business, we tell them that if they require same-day pickups, we are overcapacity. Our systems then notify the client immediately and recommend am available date for them to either accept or decline if deadlines are tight. We consider this a service of transparency for our customers as we are being realistic and offer them a chance to communicate to their clients and/or choose an alternative solution sooner rather than later.
Another game changer is real-time visibility of freight. NorthStar Digital, in partnership of Radaro, have developed an integrated driver mobile application called F8Focus. It services our drivers with an easy-to-use phone application that allows drivers to scan documents in real-time, and then send those critical documents back to our TMS systems for processing. This has saved countless hours and labor efforts for our staff in reducing the handling of documents multiple times, as well as having to image hundreds to thousands of documents daily after delivery and/or pickups are made. Our application F8Focus is geared toward real-time visibility of our assets and freight for client, real-time tracking, as well as giving our dispatch team a birds-eye view of the entire fleet in motion. With the integration to our backend, this has provided some real ROI benefits for us and our clients.
[CLICK HERE to read the article in full].