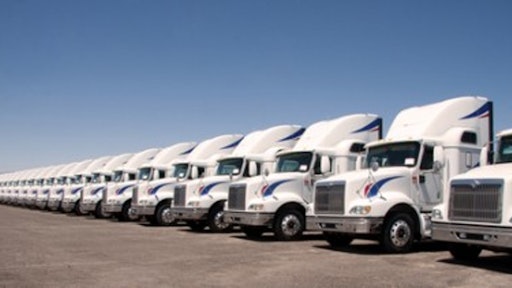 Getty Images
It isn't hard to pinpoint the biggest disruptor over the past 18 months. While all industries have endured the impact of the Coronavirus disease (COVID-19), some industries bore the brunt of the downturn more than others. The logistics and transportation industry continues to feel the effects of supply chain issues, and businesses and consumers have taken note.
It isn't possible, yet, to fully identify and quantify the pandemic's complicated impact on the trucking industry. Think of it as a turbulent plane ride where the pilot must navigate updrafts and downdrafts in stormy skies to find pockets of calm air.
A serious driver shortage, health and safety concerns and supply chain interruptions resulting from material shortages and manufacturing shutdowns all continue to blight the trucking sector. However, trucking has also had its bright spots. Surges in spending and demand kept the industry moving even while other sectors faced downturns. One area of trucking that is likely to drive permanent change is a lack of business continuity and emergency plans within fleets.
Whether or not they had continuity plans in place when the pandemic began, fleets and trucking companies had no choice but to pivot to address staffing, management and delivery challenges.
Global shipping and increased demand's impact on trucking
The pandemic created a ripple effect worldwide. COVID-19 outbreaks caused warehouse closures and decimated worker populations. Managers struggled to meet demand with skeleton crews and shipping and receiving backlogs grew larger. More than a year later, the problems persist — with a recent record backlog of about 65 cargo ships waiting outside California's Los Angeles and Long Beach ports. To put this in perspective, these ports handle 40% of all cargo containers entering the United States.
The stop-and-go economy also shifted 5 million shipping containers from the first to the second half of the year, on top of regular trade flows, creating even more bottlenecks. To address the issue, the Port of Los Angeles began offering financial incentives to trucking companies to encourage faster load pick up and drop off efficiency.
Ideally, the average turnaround time should hover around 25 minutes, not the current 93-minute average. These logjams resulted in a 5.5% drop in offloaded containers in September. And, some estimates indicate 20-25% of goods still on ships won't hit the shelves in time for Black Friday sales.
In addition to shipping backlogs and border closings hampering cargo transport, COVID-19 changed how many people opted to shop. The retail industry witnessed a significant increase in online shopping and e-commerce — and shipping demands grew exponentially, especially for food and beverage.
Continued driver shortages
According to the Bureau of Labor Statistics, Q1 2021 saw 2,741 new truck transportation firms with at least one employee. This number broke the previous quarterly record established in Q3 2020. While we've witnessed growth in the industry with new companies coming online, the trucking industry remains critically short of drivers. In fact, by 2030, the American Trucking Association (ATA) anticipates a potential deficiency of over 160,000 drivers.
Trucking companies continue facing hiring challenges — an issue prevalent before the pandemic even started. With required trucking school closures, many students were delayed in earning their CDLs. In 2020, 40% fewer drivers received training than in 2019. In late December, the Federal Motor Carrier Safety Administration (FMCSA) introduced a new rule allowing third-party skills test examiners to administer CDL tests. In general, to help reduce turnover and increase retention, trucking companies should continue to prioritize educating new drivers and skilling up its current workforce, while improving pay and implementing driver-friendly technology to help them succeed.
How can the trucking industry overcome some of these challenges? One strategy includes modernizing the industry via digital transformation, leveraging emerging trends and technologies like automation to improve transportation management.
Automation in the trucking industry
No one can predict which pandemic-driven disruptions will become mainstays in the trucking sector. However, thanks to automation, many industry adaptations designed to increase workplace safety and driver efficiency stand to become long-term solutions.
From fleet management and HR to driver workflows and maintenance tracking, automation offers many benefits to the trucking industry. Fleet managers, executives and other key decision-makers have witnessed the advantages of using automation to gather and analyze data used to inform and guide organizational strategy. Automation — and cloud computing — will last well beyond 2021.
Automation for HR. Most areas of HR benefit from automation, including employee sourcing, vetting, interviewing, hiring, onboarding and training. Automation converts documents from paper to electronic forms for easier online completion. Implementing automation to assume repetitive and mundane tasks increases accuracy — and frees staff to focus on tasks, decision making or strategizing that require critical thinking.
Automation for logistics. Fleet management software with in-app messaging was available before the pandemic. But, when warehouses and shipping companies shut temporarily or operated on a very reduced scale, companies adopted software because it allowed managers and drivers to easily communicate. Dispatching, fleet management and transportation management software (TMS) enabled dispatchers to adjust to fluctuating demand and rapidly evolving circumstances while also streamlining and automating processes for:
●     Scheduling and rescheduling loading dock appointments.
●      Managing driver HOS and workflows.
●      Optimizing plans and driver routes.
Thanks to the flexibility afforded by automation tools, trucking companies could securely and safely transport goods to meet strict deadlines that had become even more critical for shipments of high-demand products like food.
Automation to meet customer demand and empower employees. B2B customer demand has also helped accelerate the trucking sector's adoption of automation. Even before the pandemic, customers expected technology, reporting and service customized to their requirements. COVID-19 increased the need — and urgency — propelling adoption of document imaging tools, electronic bills of lading and other digital tools specifically designed to reduce friction and touchpoints for drivers, dispatchers, fleet managers and customers.
While it's been difficult navigating the ebbs and flows caused by COVID-19, the trucking sector will continue to weather the storm and overcome any setbacks or new challenges that arise. Adjustments and pivots required during the pandemic — as well as wider technology adoption — may ultimately increase trucking companies' future efficiency, effectiveness and productivity.