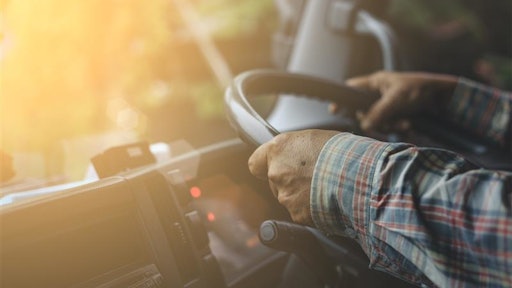 Urupong
In February, Amazon announced it would be implementing artificial intelligence (AI) cameras across its fleet of delivery vans.
While the news was met with generally positive reviews by the public – commending Amazon's commitment to safety on the road – the same cannot be said for those most impacted by the change -- drivers. Many expressed concern over privacy, as the AI-cameras record 100% of the time while they are on their route, with the intended purpose of flagging safety infractions, including failure to stop at a stop sign, speeding and distracted driving.
This announcement has put drivers across the board on notice, as a variety of companies are following suit with in-cab AI video solutions. The most common hesitation voiced by drivers is that it feels "big brother-esque" to have managers with the ability to watch their every move.
But, this mindset betrays the real-world applications and benefits that this technology enables – from increased safety to layering in context on "events" like harsh braking or lane changes. It requires, however, fleet managers and organizational leaders to be fully transparent about why and how it will be deployed.
Safety is paramount
According to the National Highway Traffic Safety Administration (NHTSA), distracted driving claimed more than 3,000 lives in 2019. From a fleet manager perspective, there's often little that can be done in real-time to help manage driver safety. In-cab AI bridges that gap to reduce those numbers among fleets and create a safer road for all drivers.
While typical video telematics solutions simply capture video footage, AI-enabled, in-cab solutions can provide a real-time view of unsafe events and behaviors to provide actionable alerts before an accident occurs. For example, the technology can detect if a driver begins drifting off to sleep, triggering an audible alert warns the driver to take action.
The insights gained can help inform long term safety programs and education services. While standard safety training programs have been more difficult to maintain during the pandemic, AI can help fleet managers identify drivers that may need more coaching, as well as prescribe personalized trainings.
Consider, for example a company that provides ambulance services. It saw a decrease in accidents after implementing video telematics solutions. By downloading video of routes, they were able to identify preventable issues and adjust accordingly. Combined with GPS reports and data on complaints received, the company is able to make its own formula for preventing issues, such as biannual continual education for drivers and on-the-road inspection. This example captures how video telematics can make processes more efficient, and incorporating AI would only expand these capabilities and allow for this manual process to be automated in an intelligent way. This type of use case could easily be applied to local delivery drivers or long-haul freight drivers across various industries.
Context is key
Smarter alerts aren't the only reason AI makes an important addition to safe fleet management. Underpinned by machine learning and predictive analytics, AI provides a long-term comprehensive picture of driving habits and other concerning events. Armed with that knowledge, managers and drivers can work together to better understand behaviors and improve overall safety metrics.
What truly makes it stand out is how it can apply contextual data to individual situations. Essentially, managers are able to evaluate events not simply through the lens of the incident, but other important factors like weather or other drivers. This way managers can actually determine if the driver needs specific training, or they can determine the incident was caused by an outlying factor, which might mean disregarding the event altogether.
This additional context is a welcome benefit to drivers, who would otherwise have an incomplete record of events appear on their scorecard. Now they are able to show, and prove, whether an event should be factored into their overall safety record. This can even include situations wherein a driver is hit by someone else on the road – providing evidence that can prevent lengthy and expensive litigations.
Debunking Big Brother
Back to the initial concern -- privacy. While it's an understandable hesitation, ultimately in-cab AI video technology serves as an important safeguard against unsafe driving practices – not a behavioral eye-in-the-sky. It provides in-cab aid to drivers in the absence of fleet managers and can produce a record-of-fact for any incident that occurs.
When evaluating the positive benefits this technology offers, there is no question that it provides a larger sense of safety rather than simply having a Big Brother effect on drivers. As long as the rollout of the technology and terms of use are transparently communicated by fleet managers and organizational leaders, in-cab AI video can be a safety net for fleet drivers and everyone else on the road.