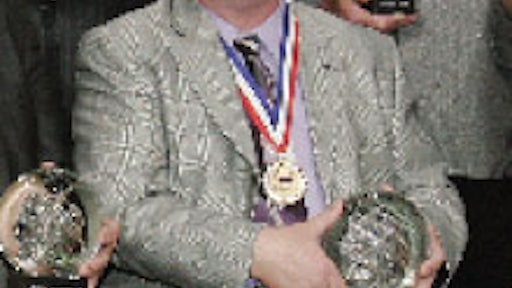 You took top honors in the 28-foot tractor/trailer category in the Food Industry Truck Driving Championship. You also had the highest overall score (423 out of a possible 500) out of a field of 80 competitors. How did you first get into truck driving as a career?
Sloneker: My dad was a truck driver and I've been in and around trucks since I was seven or eight years old. He was an independent owner/operator and was always either on the road or working on trucks. Even as a kid I would drive with him and help him where and when I could.
At the Truck Driving Championship, five of the top nine drivers were employed by various SYSCO operating companies. What's the company's secret to getting and keeping good drivers?
Sloneker: SYSCO, on a national level and from the corporate offices in Houston, really supports IFDA and the truck championships. The drivers also get support from the company and that makes us want to work that much harder for them. The company shows its appreciation for drivers that do well, and when one driver does well, it makes all the others want to work that much harder too. SYSCO also takes care of its drivers. If there's something out there that will help us do our job better, they'll go out and get it.
What kind of driving are you doing now?
Sloneker: My run is throughout the southwestern suburbs of Minneapolis. I drive four or five days a week, depending on how busy we get. I have about 750,000 miles under my belt; most of them are city miles. Most of my routes are one-day routes. Most of my deliveries are to the same people once or twice a week, though some get deliveries three times a week. Each route is pretty much the same from day to day, and I usually work 10-12 hours a day.
It can get pretty cold up there in Minnesota this time of year. What unique challenges are associated with driving under those conditions?
Sloneker: This morning it was 10-below when I clocked in. My reefer wouldn't start because the fuel kept gelling up on me. The outside temperatures also make it hard to keep the reefer running and keep temperatures inside the trailer within the proper ranges.
New truck designs and equipment modifications have made your job a lot easier though, right?
Sloneker: I'm driving a 2000-model year Sterling truck pulling a 48-foot Great Dane trailer. In trucks now we have ABS [anti-lock brakes], which makes for less of a tendency for the trailer to swing around on you during hard braking. There's also better tire design. All our trucks are equipped with wide trailer access ramps, which make them a lot easier to get in and out of. There's also a new, more comfortable air-ride suspension. Truck companies are also experimenting with automatic transmissions.
Inside the truck, our Tripmaster system keeps track of all our logs—fuel, miles, hours, etc. Technology like this is really coming into all that we do with our trucks. A few years down the road, I think you're going to see an entirely paperless system, which will speed up things like loading and unloading.
Has the heightened security at many locations had an affect on your daily activities?
Sloneker: Most definitely. I deliver to the Mall of America, and every day guards go through the truck entirely before they let me up to the dock. On my truck, all the doors are locked and I have to sign in and go through a number of security checks before I can get started. All this takes a little more time and costs a little bit more, but I guess it's necessary. It will probably only get worse as we go along.
Things like this must be having an affect on driver retention and recruitment. What's the answer to that?
Sloneker: As a driver, I know that a lot of companies are having problems getting and retaining drivers. We haven't had too much trouble with that yet. I know some companies are seeing a lot of turnover, but we haven't seen too much of that either. I've been with the company almost nine years, and I'm not even half way up on the seniority list.
I think a lot of the problem is with the nature of the job itself. You have to know how to drive, but there's also a lot of physical work on top of it. You can get injured fairly easily because you're often doing a lot of heavy lifting and handling.
Traffic can really get to some people. The roads can really get congested. Driving's definitely not for everyone, and trucking companies can certainly be a little bit pickier when it comes to whom they hire.