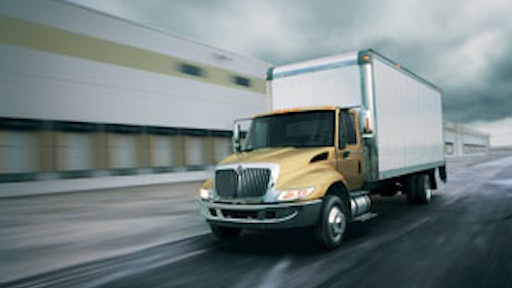 "One thing customers will surely notice this year is sticker shock," says Todd Bloom, vice president of marketing for Cerritos, CA-based Isuzu Commercial Truck of America. According to Bloom, truck customers are likely to see price increases on new model trucks of anywhere from $2,000 to $8,000, depending upon the size of the vehicle they choose and what engine they option. "That's the unfortunate cost of meeting 2007 emission standards."
However, this year truck manufacturers are striving to soften the blow by offering customers features that provide improvements in overall performance-more horsepower, more torque and better fuel economy, as well as design features created to make drivers' lives easier.
"The perception of the new engines and their performance and mileage is generally positive," says Gary Petty, president and CEO of The National Private Truck Council (NPTC), Alexandria, VA. According to Petty, the trend among the manufacturers-to maximize miles per gallon through truck improvements-fits in with his members' goal to curb their fuel consumption.
"For us, the big incremental opportunity lies in our expanded line of aerodynamic models," notes Kevin Gustainis, director of sales for Denton, TX-based Peterbilt Motors Co. Gustainis points to the company's medium duty 387 day cab and 384 models as examples of trucks that have been designed for maximum aerodynamic efficiency in a wide variety of food delivery applications.
Meanwhile Portland, OR-based Freightliner Trucks has been using its own wind tunnel to upgrade the aerodynamic design of its business class M2 and heavier class Cascadia trucks, in order to decrease wind drag on the tractor as much as possible. "Through better aerodynamics, we've actually achieved a three percent fuel efficiency increase," explains Christoff Hoffman, director, product strategy for Freightliner. Using 2008 anticipated fuel costs, the company estimates this efficiency could save its truck customers somewhere in the neighborhood of $950 to $2,750 a year per truck.
Look for the trucks to become lighter.
"Weight is also a factor in the Freightliner line, so that our customers can get the best possible payloads," says Hoffman. "This is why we are using aluminum in our M2 cabs, in order to obtain a lighter weight."
Bloomfield Hills, MI-based Hino Trucks is also lightening up its trucks to provide weight savings. "We're going standard with aluminum fuel tanks on all our models, which will provide substantial weight savings," explains Glenn Ellis, national manager sales and marketing administration.
Engines Of Change
The combination of higher equipment costs and fuel costs has led manufacturers to create engines that promise greater fuel economy. Peterbilt's Gustainis calls this a "significant turn for the industry" and says manufacturers are now going into mid-block 13 liter engines that weigh less and provide better fuel economy than previous engines.
Warrenville, IL-based Navistar International has created two Maxxforce mid-range diesel engines, the Maxxforce 7 and Maxxforce DT. The MaxxForce 7 engine will power Navistar's class 5-7 International DuraStar series medium-duty trucks and offers ratings of 200-230 horsepower. The MaxxForce DT will power class 6-8 DuraStar and WorkStar trucks with 210-300 horsepower. The company says users can expect up to a 9 percent savings in fuel economy thanks to these new engine designs.
"Everyone in the industry was saying that fuel efficiency was going to go down with the debut of diesel particulate filters," says Mark Johnson, marketing communications manager for medium duty at Navistar. "We made a conscious effort to make these new engines more efficient."
He points to improved software in the engine control modules as the key factor in helping to improve and optimize fuel burn in the Maxxforce engines.
Freightliner, with sister company Detroit Diesel, is launching its own engine-the Detroit Diesel DD15, which it will deploy across its complete line of trucks. Look for the DD15 to provide a four to five percent increase in overall fuel efficiency.
General Motors Corp., Detroit, has gone the route of offering a variety of powertrains-pg on its models this year to increase fuel economy for its customers. The company's V6 and E85 engines are now available for its half ton vans and medium duty trucks. "We're also offing the choice of gas or diesel," says Carmelita Badia, marketing manager for commercial vehicles for GMC. Badia and others point to the choice of gasoline engines over diesel engines as a major way for companies who are only putting 25,000 miles or less on their vehicles to save money.
"A gas engine has a manufacturers' suggested retail price that is $5,000 less than a diesel engine," notes Isuzu's Bloom. "That's a huge savings right from day one." And, the cheaper price of gas means gasoline engines are a better choice for the fleet performing local delivery applications.
This year, truck customers will also see an increase in the number of automatic transmissions on trucks.
GM is offering the Allison six-speed transmission in its medium duty trucks and commercial vans. "Having the extra gears allows the engine to always be in the perfect gear, given the load situation on an engine," says GMC's Badia. "This has a direct correlation to better fuel economy."
Greensboro, NC-based Volvo Trucks North America is offering the Volvo I-Shift automated transmission, which was designed specifically for Volvo's heavy-duty diesel engines. According to the company, it not only offers better fuel economy, but extremely smooth operation due to its ability to communicate with other components in the truck systems, such as the engine break.
"The move toward automatic transmissions is a growing trend," says Peterbilt's Gustainis. "Drivers are very hard to find and automatic transmissions make vehicle operation easier for them."
Driver Friendly Interiors
Manufacturers report that fleets are looking for other driver friendly amenities, in an effort to combat high driver turnover rates. Manufacturers such as Freightliner are striving to make the cab interior more ergonomic for drivers by putting all of the dashboard controls well in reach of the drivers and in plain sight. New models also feature buttons on the steering wheel itself so that drivers don't have to take their hands off to engage the engine break.
Along with this is a trend toward increasing visibility on medium class delivery trucks through bigger windscreens and more hood slope, in order to improve the drivers' line of sight while going around tight corners in urban delivery applications.
"We're being asked to provide drivers with features that can assist them in meeting the needs of the company," says Frank Bio, product manager, trucks, for Volvo. One of those areas again, is fuel economy. "Volvo is outfitting the dash with a fuel economy meter that helps the driver determine if he should apply more throttle or move more throttle from the accelerator to help with the fuel economy."
Hino also provides a fuel economy meter as part of its Driver Information Display. The display allows for the monitoring of the shoot level in a truck's DPR system, for regeneration status. It also provides information on engine diagnostics, service intervals, trip meter settings, engine operational time and cruise speed settings.
"We also see more of a trend on safety and driver protection equipment on our vehicles," notes GMC's Badia. According to her, customers are now asking that this type of equipment be installed on their trucks. With operational costs rising along with everything else, more companies are becoming sensitive to vehicle repair costs, not to mention the exorbitant costs associated with medical care, if drivers become injured on the job.
In response to this, companies like GMC are offering new options such as driver's side airbags, on-traction control, anti-lock breaks, stability control, tire pressure monitoring and hand mirrors with directional indicators.
"Everyone keeps asking how they can optimize their bottom line," notes Navistar's Johnson. This year's offerings by the truck manufacturers are designed to do that on a number of levels, in addition to optimizing truck emissions.
Companies in this article