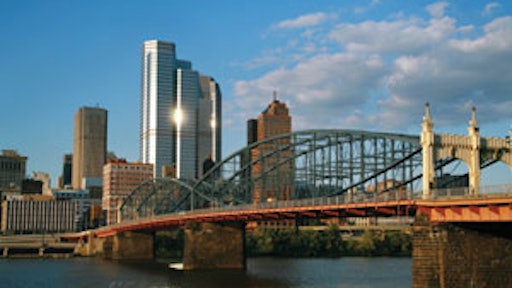 You may know Pittsburgh as the headwater of the Ohio River, the city of a thousand bridges or as home of the Pittsburgh Steelers and Iron City Beer.
Within 500 miles of more than half the U.S. population, Pittsburgh features more than 89 historic and ethnically distinctive neighborhoods, diverse cuisine, remarkable history and more.
This year, it's the location for the annual Foodservice Distribution Conference and Expo, hosted by the International Foodservice Distributors Association (IFDA).
Several hundred foodservice distributors will head to the Keystone State to attend the event, which will take place on Oct. 12 to 14 at the David L. Lawrence Convention Center.
Located in the hub of Pittsburgh's cultural, business and entertainment district, the convention center is also the first and largest certified "green" convention center in the world.
Themed "Bridges to Success," the conference will help foodservice distributors identify opportunities, reduce costs and attain and sustain efficiencies throughout their organizations.
Supported by UniPro Foodservice Inc., Progressive Group Alliance, F.A.B. Inc., Golbon, Federated Foodservice, Bellissimo Foods and the Independent Marketing Alliance, the conference provides an opportunity to meet counterparts from across the industry.
Attendees will be able to network, find new ideas and gain insight into current challenges. The conference brings executives together in an environment structured around a combination of educational sessions, facility tours and social events.
More than 40 workshops will offer practical, take-away knowledge for executives in operations, transportation, human resources, technology and supply chain. Special interest tracks include supply chain sessions to address collaborative ways distributors and manufacturers can gain efficiencies. Convenience store distribution sessions provide insights on serving this growing foodservice segment.
This year's facilities tours include the Greensburg division of U.S. Foodservice and Sysco Food Services of Pittsburgh. The tours enable attendees to see how others are using technology in the warehouse and transportation industries for receiving, order selection and delivery. In addition, the conference includes a special opportunity to visit the Heinz Innovation Center, which opened in 2005. The center serves as a research hub for Heinz's global operations and has helped the company double its success rate of new products.
On Monday, Oct. 13, join friends and colleagues for a fun-filled evening at the Senator John Heinz History Center, Pennsylvania's largest history museum. The evening includes a reception and a private museum viewing.
An exposition of more than 100 companies offering products and services rounds out the activities. From energy efficiency and equipment leasing to racking systems and routing software, this is an opportunity to see the latest products, discuss capabilities and specifications and address your specific needs.
The conference provides education for foodservice distributors, with timely topics for broadline, systems and specialty distributors. Whether you have a single facility or distribute on an international scope, you will find education at this conference that meets your needs.
New this year: From the warehouse to the fleet, energy expenses affect all aspects of business. Rising energy costs lie beyond your control, but there are costs you can control. On Tuesday, October 14, attend the post-conference Fuel and Energy Summit that will include an economic overview of energy initiatives, fuel purchasing options, efficient equipment speccing and more. This summit will give attendees the keys to help control escalating costs.