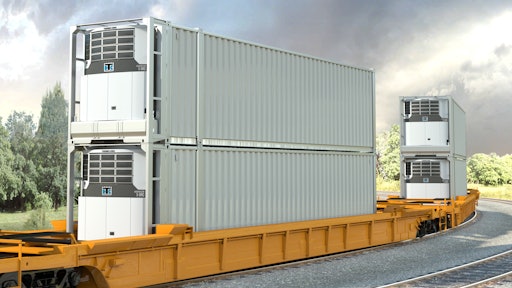 Thermo King
Thermo King introduced the Advancer S-DRC slimline rail unit for cargo rail and intermodal applications. Utilizing the S-Series engine, the S-DRC will replace the SLXi-DRC and be what is dubbed as one of the first slimline units in North America that meets current CARB Ultra-Low Emission Transport Refrigeration Unit emissions standards, making it compliant in all 50 states.
"Thermo King has designed custom rail solutions for our customers since 1948," says Sam Doerr, Thermo King's trailer portfolio leader. "The Advancer S-DRC is another example of Thermo King's commitment to delivering smart, sustainable temperature-control solutions that help customers transition fleets to reduce their environmental impact and be compliant with the changing regulations in California."
Key takeaways:
● Features include 10% improved fuel efficiency over the previous generation; next-generation control system that enables precise temperature management; a slimline profile that allows a competitive 15-pallet capacity and enables a smooth transition to over-the-road; two ThermoLite solar panels as standard; and integrated shore power.
● Every Advancer S-DRC unit will also come equipped with TracKing telematics and provide access to predictive analytics and performance dashboards.