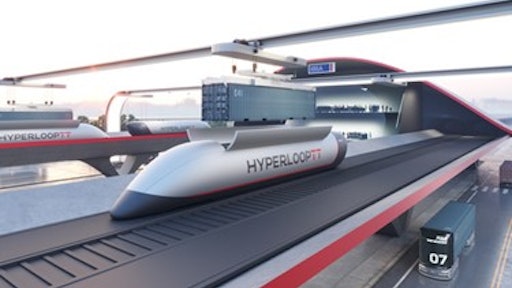 Hyperloop Transportation Technologies (HyperloopTT)
Hyperloop Transportation Technologies (HyperloopTT) revealed HyperPort, a sustainable high-speed cargo and freight solution capable of increasing capacity and efficiency while decreasing pollution and congestion at ports worldwide.
Developed in partnership with Hamburger Hafen und Logistik AG (HHLA), the HyperPort system is a plug-and-play solution for port operators capable of transporting containerized cargo hundreds of kilometers in minutes.
"Using the same underlying technology as our passenger systems, the HyperPort can future-proof supply chains while returning valuable seaside real estate back to surrounding communities," says Andres De Leon, CEO of HyperloopTT. "Our work with world leading firms to move this technology forward is a significant revenue opportunity for port operators all around the world."
"At HHLA, we know that to prepare for the future you must innovate," says Gerlinde John, project manager HyperPort at HHLA. "The hyperloop technology is suitable for taking the transport of goods to a new level. With the HyperPort concept, we are developing an alternative solution to existing transport systems for the goods transport of the future for a fast-growing global market."
From PR Newswire:
The system can move 2,800 containers a day in an enclosed operating environment that eliminates at-grade crossings to increase reliability, efficiency and worker safety.
HyperPort capsules can sustainably transport two 20-foot standard or high cube containers or one 40- or 45-foot container at airplane speeds.