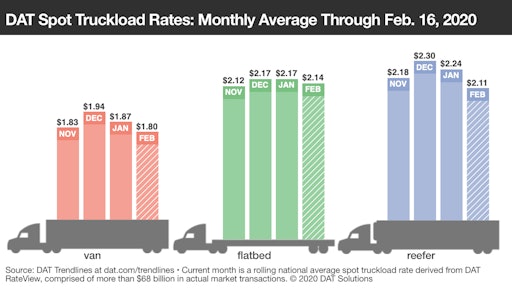 Week-over-week declines in spot van, refrigerated, and flatbed freight volumes were modest during the week ending Feb. 16 compared to the steady slide that began in early January, said DAT Solutions, which operates the industry's largest load board network.
The marginal decreases indicate that demand for trucks is firming up and rates may be bottoming out. The national average reefer load-to-truck ratio was unchanged at 3.7 loads per truck last week and the van ratio was neutral at 1.8.
National Average Spot Rates, February (through Feb. 16)
- Van: $1.80 per mile, down 7 cents from the January average
- Reefer: $2.11 per mile, down 13 cents
- Flatbed: $2.14 per mile, down 3 cents
Reefer trends
It's early for a big Florida produce push, but rates are moving higher on several key lanes:
- Miami to Atlanta: $1.76 per mile, up 27 cents
- Miami to Elizabeth, New Jersey: $1.71, up 12 cents
- Lakeland to Charlotte: $1.58, up 10 cents
Imports and exports are also giving the reefer market a lift, with elevated load-to-truck ratios in the port cities of Savannah, Ga., Charleston, S.C., and Wilmington, N.C.
Van trends
Just two weeks ago the average van rate was lower on 81 of the top 100 van lanes by volume. Last week, only 39 lanes declined compared to the previous week and 32 stayed the same. That's a good sign. And van load-to-truck ratios held steady last week, an indication that demand for trucks is firming up.
On the other hand, many of the lanes with the largest rate increases were those where prices were well below the national average—a familiar story:
- Denver to Oklahoma City: $1.33 per mile, up 16 cents
- Dallas to Los Angeles: $1.28, up 9 cents
- Lakeland, Fla., to Atlanta: $1.00 per mile, up 5 cents. That's right. A buck a mile for van freight out of Florida.
Coronavirus update
Right now, DAT data shows no real impact of the coronavirus on domestic trucking—travel restrictions have affected sea and air freight far more. February is a slow month for imports from China anyway because so many seaports reduce their activity during the Lunar New Year holidays.
The longer-term effect on U.S. imports and spot truckload freight, especially at West Coast ports, depends on whether governments take more aggressive steps to curtail commercial traffic from Wuhan and elsewhere.
Ports are bracing for the impact on volumes as the number of canceled sailings reached unprecedented levels, making it more likely that the seasonal lull at U.S. ports will extend into March. At that point we can start to connect unusual truckload freight volumes on certain lanes with efforts to contain the outbreak.