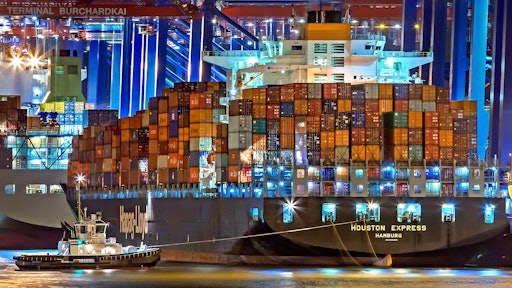 Pexels
As a new era dawns for the maritime industry this year, driven by IMO 2020, the International Maritime Organization's 0.5% sulfur cap on fuel content effective last month, players in the global container-shipping sector find themselves in a position where their hard-won gains in competitiveness in recent years could be scuttled by pressures from other sectors in the industry for more-transparent—and lower—pricing. That's on top of growing financial pressures on the container-shipping sector, such as a key risk-of-bankruptcy measure that has increased and a debt-to-EBITDA (earnings before interest, taxes, depreciation and amortization) ratio that has deteriorated in the past year.
The report, AlixPartners' 2020 Global Container Shipping Outlook, finds that public companies in the container-shipping sector have seen their combined debt-to-EBITDA ratio, also known as leverage ratio, rise to 8.7 for the 12-month period ending September 30, 2019, up from 8.4 in calendar-year 2018—nearly a 4% jump. It also finds that the average Altman Z-score, a commonly used bankruptcy-risk measure, has in that same recent 12-month period deteriorated to a score of 1.16, from 1.35 in 2018—as the industry endured reductions in asset turnover and as industry-wide debt grew by $21 billion. The study also notes that the sector's finances this year are made even more vulnerable by the current coronavirus epidemic, which has sharply reduced container volumes at Chinese ports.
On top of all that, according to the study, is a frustration on the part of shippers, freight-forwarders and non-vessel-operating common carriers (NVOCCs) toward what they've long perceived as opacity on the part of the container-shipping sector regarding its pricing, now compounded by the implementation of the IMO 2020 rule.
This perception, says the study, is likely to lead to all-new pressure this year on container-shipping players to contain prices and to standardize industry pricing formulas, including fuel bunker adjustment factors—a pressure campaign that could be led by eastbound transpacific mega-shippers, who have a history of driving changes in the way carriers do business. And that, in turn, says the report, means that container carriers have no choice but to adopt a strong focus on total cost control this year.
"Carriers could see their hard-fought financial gains of recent years totally evaporate if they fail to control costs, including how they manage fuel costs and customer expectations around fuel costs," said Esben Christensen, global co-leader of the transportation and infrastructure practice at AlixPartners and a managing director at the firm. "The wide spreads today between the costs of intermediate- and low-sulfur fuels might suggest that installing scrubbers should at least be considered; however, carriers need to carefully consider the details of if and how they go about converting vessels, plus other longer-term factors such as whether smaller and more-remote ports might be challenged to secure adequate low-sulfur fuel supplies."
In addition to the container-shipping sector, the AlixPartners report also offers advice to other sectors in the maritime industry for the year ahead—including that shippers should expect to see increases in their fuel-adjustment charges, or "all-in" rates, and that they should consider spreading their business among several lines; and that investors should keep close tabs on carriers' debt levels, cost management and profitability, and be alert to any declines in shipping volumes or rates—especially on the Asia-Europe and transpacific lanes.
"IMO 2020 was already going to make this a year of huge disruption for the entire maritime industry," said Marc Iampieri, a managing director in the transportation and infrastructure practice at AlixPartners. "Throw in the coronavirus, the recent deterioration of some key financial measures and whatever other unforeseen disruptions lie ahead, and it's clear that preparing for the worst may be the best way to avoid the worst."