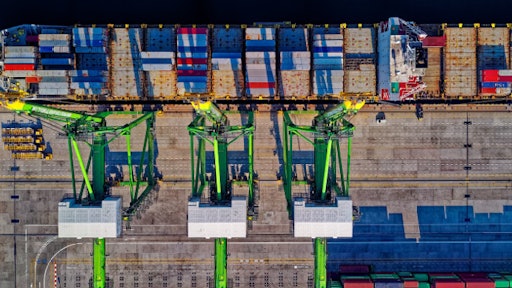 Streamline
Octopi by Navis, a provider of terminal operation solutions for the maritime shipping industry, and Streamline, a software-as-a-service (SaaS) Enterprise Resource Planning (ERP) logistics and supply chain management company, have partnered to offer small- to mid-sized terminals and shipping companies a comprehensive, transparent solution for their logistic tracking needs. The first use of the product of this partnership will be Florida's Port Manatee, the closest U.S. deepwater seaport to the expanded Panama Canal.
The integration will allow terminals running on Octopi's cloud-based terminal operating system (TOS) to better plan and prepare for accepting incoming cargo loads, tracked and managed through StreamlineERP, and ready them for transport to their destinations. StreamlineERP helps shippers more comprehensively track and manage shipments worldwide, using logistics GEO mapping support to track cargo from origin to destination.
While Port Manatee handles containers, with a nearly 50 percent year-over-year increase in containerized cargo in 2019, it also handles liquid and dry bulk, as well as other types of cargo that require accurate inventory and real-time tracking by shippers and customers. Handling these diverse types of cargo efficiently are essential to Port Manatee's long-term growth strategy. With seven berths, 480,500 square feet of warehouse space and 65 acres of open storage to efficiently manage, Octopi's TOS has the capacity to manage planned growth and the flexibility to interface with a variety of shipping software, such as StreamlineERP's.
"Once complete, the interface will allow us greater visibility on internal movements of cargo within Port Manatee and throughout the U.S.," says Carlos Diaz, commercial director for World Direct Shipping, a leading carrier at Port Manatee. "We'll be able to monitor cargo in and out and it will give terminal operators the ability to plan and organize berths in advance."
WDS has three ships now, traveling back and forth to three different ports in Mexico. It nearly doubled its volume in 2019 from 2018.
The experience and expertise of both companies in shipping logistics was critical to the integration development.
"This involved integrating two innovative SaaS creators to help their terminal and shipping customers increase transparency, visibility, accuracy and efficiency so they can focus their attention to getting product from producer to end-user as quickly and for the lowest cost possible, " says Chris Matthews, streamline ERP president. "The result will be a seamless integration and transparency of shipping manifests for ocean carriers in and out of port, with real-time notification and tracking of cargo all along the supply chain."
The terminal end of operations can be a choke point in the supply chain if the data isn't available to help plan and prepare the port appropriately.
"Octopi by Navis' integration with StreamlineERP positions both companies to offer a level of value to customers that would otherwise be impossible," says Luc Castera, director of product, Octopi by Navis. "We believe that software should be elegant, simple and easy to use, and we are excited to partner with StreamlineERP, whose work in the ERP space aligns with Octopi's overarching goal of empowering traditionally underserved markets in shipping and logistics with enterprise-power tools to help them maximize efficiency and productivity."