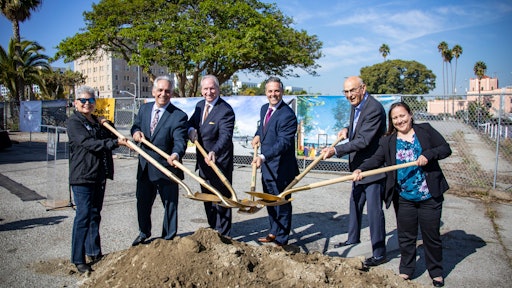 Port of Los Angeles
Port of Los Angeles has officially broken ground on the $33 million LA Waterfront town square and promenade. The project, which will connect San Pedro's Downtown Harbor to the future San Pedro Public Market development, was designed by Port staff in collaboration with James Corner Field Operations, designer of the High Line urban park in New York City.
"Today's groundbreaking represents an important step toward realizing our vision of a thriving LA Waterfront," said Jaime Lee, President of the Los Angeles Board of Harbor Commissioners. "This new modern and public space will provide residents and visitors exciting ways to enjoy the waterfront, while also offering a front row view at the nation's busiest port."
The additional segment of public promenade will run parallel to the Port's Main Channel for nearly one mile, meeting the new town square at 6th Street and Harbor Boulevard. The public space will serve as an important link to the San Pedro Public Market, slated to start construction this spring.
"As a long-time resident of San Pedro, I'm very proud of all that our Port and community has done to bring the vision of the LA Waterfront to life, project by project," said Harbor Commissioner Anthony Pirozzi, Jr., who officiated the groundbreaking ceremony. "This new public gathering space is going to be an exciting and welcome addition to our community."
Features of the 1.9-acre, 30-foot wide promenade and four-acre town square will include "harbor swings," public seating, landscaping, hardscaping, signage, architectural finishes, handrails and lighting. In response to growing tourism and visitors to the LA Waterfront, the project will include construction of public restrooms as well.
"The promenade and town square are integral components of the San Pedro Public Market, a world-class destination and community gathering place unprecedented in LA's waterfront history," said Wayne Ratkovich, founder and CEO of The Ratkovich Company, one of the founding developers of the project along with Jerico Development. "We are excited to partner with the Port of Los Angeles to continue the evolution of San Pedro and further connect this historic, resource-rich Los Angeles community with the larger Southern California region and visitors from around the world."
The project is being funded by the Port's Public Access Investment Plan, which ties community infrastructure investments to a percentage of the Port's operating revenue. Since 2005, the Port has invested more than $700 million in waterfront capital development, programming and maintenance, with an additional $300 million in Port funding anticipated through 2025 under the Plan.
In a competitive bid process, Southern California-based Griffith Company was awarded the construction contract to build the new town square and promenade. The project is expected to be completed by summer 2021.
The LA Waterfront consists of a series of waterfront development and community enhancement projects blanketing more than 400 acres of existing Port of Los Angeles property in the harbor communities of San Pedro and Wilmington. Just 23 miles south of downtown Los Angeles, the LA Waterfront features expansive marinas and beaches, museums, historical landmarks, award-winning open spaces and a flourishing downtown art scene.