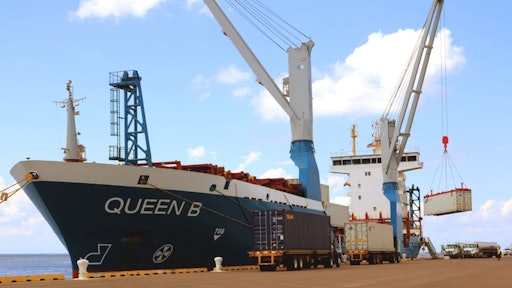 Port Manatee has extended its agreement with World Direct Shipping to maintain its swift weekly service between the Florida Gulf Coast Port and Veracruz for as many as five more years.
Under a lengthened pact approved Thursday by the Manatee County Port Authority, World Direct Shipping has committed to bring refrigerated produce and other goods into Port Manatee from the Port of Coatzacoalcos through at least Dec. 31, 2019, with a pair of one-year options extending through the end of 2021.
Since November 2014, the weekly World Direct Shipping service has carried increasing volumes of refrigerated produce from Mexico while returning from Port Manatee with paper, recycled materials and oversized cargos.
World Direct Shipping has moved nearly 300,000 tons of cargo through Port Manatee to date and last July deployed the 430-foot-long M/V Queen B to accommodate steadily growing trade.
"Extension of the agreement with World Direct Shipping ensures continuation of a positive relationship with a valued partner of Port Manatee," says Vanessa Baugh, chairwoman of the Manatee County Port Authority. 
Carlos Diaz, director of World Direct Shipping, says, "We are very pleased to have extended our agreement with Port Manatee as the port's proximity to Mexico has been very beneficial to us.
 "Our 2 1/2-day transit time offers the fastest short-sea connection between Mexico and the U.S. Southeast, Northeast and Midwest and has led to the success of World Direct Shipping," Diaz adds.
Port Manatee is the closest U.S. deep-water seaport to the expanding Panama Canal, with 10 40-foot-draft berths serving container, bulk, breakbulk, heavy lift, project and general cargo customers. The port generates more than $2.3 billion in annual economic impact for the local community, while supporting more than 24,000 jobs, without levying ad-valorem taxes.