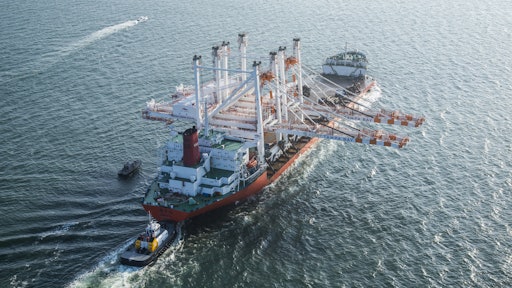 As the food supply chain continues to diversify and expand across virtually every global region, the supporting and integral role of U.S. ports is likewise becoming more prominent. While containerized carriers are making significant investments in their reefer (refrigerated) business to handle temperature-controlled fruits and vegetables, protein and dairy cargoes, not to mention wine, beer and spirits, major box ports are doing their part with infrastructure upgrades and other investments aimed at reefer shipments.
Food Logistics queried a handful of key players to find out how they are responding to the overall growth in temperature-controlled food shipments, the potential impact of the expanded Panama Canal, and new opportunities associated with the USDA's "cold treatment" pilot.
Poultry exports account for most of GPA's frozen cargo, according to Edward Fulford, manager of communications, Georgia Ports Authority. Yet, "refrigerated imports are growing as producers choose the Port of Savannah to reach markets such as Atlanta, Charlotte and Memphis. In fact, refrigerated imports via Savannah grew by 24 percent between 2011 and 2015."
Additionally, "Savannah features 104 refrigerated container racks plus 738 chassis plug-ins—for 3,234 container slots. GPA is adding 20 rubber-tired gantries (for a total of 146), and four ship-to-shore cranes (total, 26) to keep cargo moving faster," he says. The port also boasts 1 million square feet of private, off-terminal cold storage.
As for the impact of the Panama Canal expansion, Fulford says the resulting cargo growth at Savannah "is likely to be incremental, but steady as shipping lines tap into cost savings from an all-water route to serve the Southeast."
The expansion of the USDA's "cold treatment" pilot program is creating a more immediate impact, however.
"Imported fruit destined to the Southeast has traditionally been shipped to northern U.S. ports. Delivery to Savannah saves a day of transit, allowing fresher offerings and longer shelf life. The USDA program also cuts emissions by reducing truck miles," Fulford says.
"By moving perishable cargo through Savannah, businesses can reach customers faster, save on transit costs, and take advantage of unmatched assets such as on-site inspection and the nation's most comprehensive refrigerated cargo infrastructure."
North Carolina State Ports Authority (www.ncports.com)
At the North Carolina State Ports Authority, the big news is the pending completion of the Port of Wilmington Cold Storage facility.
According to a spokesperson, "Port of Wilmington Cold Storage (PWCS) is in the process of constructing a new cold storage warehouse facility containing roughly 3 million cubic feet, located directly on terminal at the Port of Wilmington in North Carolina. This is the only cold storage facility located on a port in the State of North Carolina and one of the only of its kind on the U.S. East Coast. PWCS's strategic location on the Port of Wilmington provides the region's import and export customers with logistical benefits."
The full-service, public refrigerated warehouse operation will have roughly 11,000 pallet positions. It is located near prime distribution channels, including water, interstate and rail.
"PWCS has the resources and experience to store, ship and stage products at competitive rates in all the markets we serve," emphasizes the spokesperson. "Its modern temperature-controlled and fully-racked facility has the latest technologies incorporated with its ammonia refrigeration systems. It provides warehouse storage in a full range of cooler and freezer temperatures from -10 to 40 degrees Fahrenheit. In addition, the warehouse management system (WMS) is custom designed to manage inventory control requirements, as well as day-to-day flow in a real-time environment."
The Northwest Seaport Alliance (NWSA), a marine cargo operating partnership formed nearly a year ago between Port of Seattle and Port of Tacoma, sees plenty of growth opportunity in the cold chain.
Sue Coffey, the NWSA's director of business development, explains that, "Free trade agreements are opening import food markets, bolstering the export market in the Pacific Northwest. The Northwest Seaport Alliance is focused on working with stakeholders to meet the increasing demand for handling these temperature-controlled cargoes."
She says that shipping lines, terminal operators, ports, warehouse/distribution centers and railroads are all investing heavily in the cold supply chain. The NWSA, meanwhile, has added reefer plugs at Terminal 18 in the North Harbor and Washington United Terminals and in the South Harbor.
"Seven privately-owned cold storage facilities operate at NWSA harbors, offering ample capacity for frozen, chilled and temperature-sensitive commodities. In all, more than 20 facilities operate in the Puget Sound region, providing more than 1 million square feet of space for storage and handling of this type of cargo," says Coffey. "Lineage Logistics recently expanded its cold storage facility in Tacoma, and Preferred Freezer Services added a new facility. Most of these cold-storage facilities are served by rail."
Coffey adds that, "The Pacific Northwest is rich with agricultural products, such as apples and potatoes, that other countries desire. And, we provide an efficient gateway for frozen meat and poultry products coming from the U.S. Midwest and South. While the strong U.S. dollar has resulted recently in a dip in exports, the strong import market helps position equipment for the outbound market."
Florida's Port Everglades is a leading seaport for perishables, "moving nearly half of the state's refrigerated ocean-going containers—117,677 TEUs—in fiscal year 2015," says Glenn Wiltshire, deputy port director.
"Several terminal operators at Port Everglades are making facility improvements to handle anticipated volume increases as Florida's consumer population continues to climb. Florida recently surpassed New York as the third most populous state in the U.S., and also enjoys an influx of 105,000 visitors annually. At the same time, more than 6 million residents live in Broward, Miami-Dade and Palm Beach counties where Port Everglades is located," he says.
Wiltshire lists a number of improvements recently implement at the Port or on the horizon. They include new reefer racks and USDA inspection dock at MSC's Port Everglades Terminal; new refrigerated rail cars acquired by Florida East Coast Railway, which operates an intermodal container transfer facility at the Port; a new five-acre terminal yard for Ayco Farms to handle the company's own produce shipments; and a new USDA inspection dock at Crowley Liner Services' terminal.
He says that, "One of Port Everglades' most fruitful initiatives has been a perishables pilot program with the USDA and the Florida Trade Perishables Coalition that has resulted in direct shipments of fruit—primarily blueberries and grapes from Peru and Uruguay—to Florida, rather than first being shipped through the Northeast per federal regulations and then trucked into the state. The program has been expanded to include several other South American countries and fruits."
Located "Where Tampa Bay Meets the Gulf of Mexico," Port Manatee is the closest U.S. deep water seaport to the expanding Panama Canal, with 10 40-foot draft berths serving container, bulk, breakbulk, heavylift, project and general cargo customers.
A spokesperson explains that, "Port Manatee is pursuing both modernization of existing refrigerated facilities as well as planning for future refrigerated warehouse capacity." At the same time, "Port Manatee is ideally positioned to migrate from breakbulk imports to containerized boxes by adding additional reefer plugs to the port inventory.
Recently, the Port announced a 36 percent year-over-year increase in containerized cargo handled in the first half of its fiscal year.
"With World Direct Shipping increasing imports of refrigerated produce in its weekly service from Mexico, as well as consistent inbound shipments by longtime tenant Fresh Del Monte Produce, Port Manatee is extending a positive trend in the container sector," stated Carlos Buqueras, Port Manatee's executive director.
In February, the Port of Houston Authority announced that the first phase of a 300,000 square foot temperature-controlled cargo facility would be built at the Port's Bayport Container Terminal by AGRO Merchants Group. The expansion project will include inspection and handling facilities for the USDA, blast freezing cells and deep truck docks with ample doors for shipping and receiving.
Expanding the Port's capacity for handling refrigerated cargo "makes sense given the population growth in Houston and Texas, with numerous people being attracted to the city and area because of jobs. Houston's central location in the Gulf of Mexico allows for fast transit times to the major produce markets in Central and South America," stated the Port Authority.
The Port of Jacksonville offers "a highly competitive option to shippers looking to import fresh and frozen food products into the growing Florida and greater Southeastern markets," says Frank Camp, director of non-containerized sales.
Furthermore, "Jacksonville recently received inclusion to USDA's Cold Treatment Pilot in late 2015. Shippers now have the opportunity to bring certain varieties of South American produce into Jacksonville and take advantage of geography to realize shorter and faster inland transport options to major markets in the Southeast."
The cold treatment pilot has been a boon for JAXPORT and other major box ports in the Southeast, who are quick to point out the newfound advantages of more direct shipping options that have come along under the pilot.
For instance, "The traditional routings of certain produce items destined for the South across ports farther north adds time and expense to the supply chain, resulting in shorter shelf life and a higher, final cost to the end customer," explains Camp.
While ocean-borne food imports/exports have generally performed well in the U.S., the strong U.S. dollar has definitely created headwinds.
A spokesperson for the Port of Long Beach confirms that, "Food exports via the POLB since 2013 are not growing—mostly due to a strong dollar and uneven global economies."
TEUs have trended downward in recent years, according to PIERS' data. The POLB handled 203,051 in 2013, 194,930 in 2014, and 179,084 last year.
Nonetheless, the POLB is continuing its infrastructure upgrades to support temperature-controlled shipments. Currently, there are 5,098 reefer slots Port-wide, while another 1,125 will be added at LBCT's new Middle Harbor terminal, which saw the first phase open this spring.
As for refrigerated warehouse capacity, "There is over 1 million square feet of cold storage warehouse space within 10 miles of the Port, including the new Lineage/Baker facility opening in June," says the spokesperson.
On the topic of the Panama Canal expansion, "it is not likely to have a significant impact on trade at the Port of Long Beach. Our carriers are introducing bigger and bigger container ships—too big for even the expanded Panama Canal," says the spokesperson.
Another relatively minor issue for the POLB has been the ongoing migration of temperature-controlled food cargoes from specialized carriers to box carriers.
"For the most part, this migration has already occurred. Chiquita moved its bulk banana terminal from the Port of Long Beach in 2005. Now, CMA CGM owns 213,000 reefer containers (TEUs) globally with 36,000 reefer plugs available each week. POLB is ready with cold storage infrastructure," he says.
By contrast, the regulatory changes ushered in by FDA's Food Safety Modernization Act (FSMA) will likely be more pronounced.
"According to the operator of a large cold facility near the Port, this could be a costly program for all involved. More regulations equal more costs," he points out. "Most of this law will involve shippers and receivers, but reefer carriers will have to keep detailed temperature data. There'll be layers of extra costs—additional driver requirements and training; cleaning and sanitizing of the containers; and reporting the data."
Similar to neighboring Port of Long Beach, the Port of Los Angeles also experienced a decline in food imports/exports.
"Imports went from 1.1 million metric tons in 2014 to 855,000 metric tons in 2015 (a 25% decrease), and imports went from 1.2 million metric tons in 2014 to 876,785 tons in 2015 (a 26% decrease)," says a spokesperson. "The congestion situation at West Coast ports in the first quarter of 2015 forced the perishable industry to find other gateways/ports for their commodities. We expect that much of that share will return in 2016," he remarks.
"The Port of Los Angeles has a total of 4,000 reefer plugs at our 8 container terminals," he adds. "This is sufficient to handle the current volume of reefer containers and future expansion. In close vicinity of the Port, Lineage Logistics is building a 25,000-pallet cold storage facility that will service the Port of L.A. and the Port of Long Beach. This facility and four other companies within 2 to 6 miles from the port will provide space for a total of 116,000 pallets in cold store capacity.
As for steady shift in temperature-controlled cargoes from specialized carriers to box carriers, according to the spokesperson, "The Port of L.A. is a diversified port that handles both reefer container as well as traditional (specialized) reefer ships. We receive traditional reefer ships with fruit from Chile in our winter season. On this trade lane shippers have the choice to ship either with containers or with reefer ships. The shippers in Chile will use about 90 percent reefer ships, because the volume of fruit during the peak of the season cannot be handled with reefer containers," he says, because there are not enough reefer slots on container ships between Chile and the U.S.
"The advantage of sending (these cargoes) with traditional reefer ships is the transit time. From Chile to L.A. it takes 12 days; with a container service it will take 20 days," he says, adding that containerships stop along many ports in South and Central America, while the reefer ships offer direct service from Valparaiso, Chile to the Port of Los Angeles.
The Port of Oakland's Maritime Director, John Driscoll, is quick to point out that, "Our proximity to the California Central Valley and Napa Valley makes the Port of Oakland a primary gateway for leaders in agriculture and wine."
Indeed, the Port handles more than 98 percent of the containerized goods that move through Northern California, he says, adding that, "Our primary food exports products include fruits, nuts, meat, and vegetables, and our primary import product is beverages."
Last year, 13 percent of the 844,000 loaded TEUs coming into the Port of Oakland were loaded with perishables, while 27 percent of loaded outbound TEUs were filled with agricultural products.
"American meat and poultry and California's high quality produce, wines and other beverages are in demand in Asia and elsewhere around the world," says Driscoll.
The impact of an expanded Panama Canal doesn't appear to worry the maritime director.
"At the Port of Oakland we will continue to attract a lot of export cargo, in particular time-sensitive goods such as agricultural and refrigerated cargo," says Driscoll. "The Port of Oakland remains a strong, viable port of choice because of its proximity to Asia, big ship infrastructure, two Class I railroad connections (UP and BNSF), and the major Northern California domestic market. Certainly, some shippers may choose to take the slower route though the canal and on to the Gulf Coast or the U.S. East Coast if they can find a way that works for them financially and operationally. However, import cargo favors inland points connections, so the West Coast will continue to attract imports. Additionally, there are already containerships in service larger than what the planned expansion of the Panama Canal can accommodate. No matter the challenges, the Port of Oakland will remain focused on managing its business to stay globally competitive."
As for cold chain infrastructure, the Port of Oakland "already has 150,000 square feet of existing refrigerated capacity to keep products fresh for trade to and from the U.S. interior. Currently, there is more than a million square feet of refrigerated facilities on and near Port property—no more than a 15-mile drive at most from the Port's marine and rail terminals," says Driscoll.
Furthermore, he says the Port is "working with Lineage Logistics - Dreisbach Enterprises (developer) on plans for a state-of-the-art infrastructure project called Cool Port Oakland." The plans call for the development of a 364,000 square foot, temperature-controlled warehouse and distribution facility equipped with rooms capable of providing cooling or freezing conditions, including storage capacity for up to 20,000 pallets of perishable food products, he notes. In addition, "The building will be uniquely shaped to allow for as many as 36 refrigerated rail cars to be staged within the cold storage facility at one time for loading and unloading perishables. This new high-tech facility will maintain the integrity of the cold supply chain."
"The Tampa Bay/Orlando I-4 Corridor is Florida's largest and fastest growing market and has the largest concentration of distribution centers in the State," says Wade Elliott, vice president of marketing and business development for Port Tampa Bay. In addition, "The region is located at the heart of Florida's agriculture sector, and is home to the State's largest cluster for the food and beverage sector," he says, with leading brands ranging from Publix to United Natural Foods and a host of others having a significant presence in the area.
Elliott says that, "Together with container terminal operator partner Ports America, Port Tampa Bay is investing to be well positioned to serve the continued growth in the Florida/Southeastern U.S. market and to handle the larger container vessels expected, including those resulting from the Panama Canal expansion."
The Port received two new post-Panamax cranes in April, which marked "an important milestone in expanding the Port's capability," says Elliott, adding that the Port also plans to quadruple the size of its container terminal from the current 40 acres to over 160 acres. Port Tampa Bay is also developing new cold storage facilities, "and together with CSX, is working on plans for a new express refrigerated train service to the U.S. Midwest to serve both import/export and domestic business," he says.
Furthermore, "In October 2015, Port Tampa Bay received approval by the U.S. Department of Agriculture to participate in the cold treatment program to import select types of refrigerated produce from South America," says Elliott, joining other ports in the Southeast region that are now able to offer a very attractive advantage to fresh produce shippers.
On April 27, Port Tampa Bay and the Florida Department of Agriculture and Consumer services hosted the Fresh from Florida Export Summit – Accessing Overseas Markets, says Elliott. "Presentations and panel discussions covered such topics as export market opportunities and transportation and logistics, with a keynote address by Florida Agriculture Commissioner Adam Putnam. Attendance included Florida growers and producers, including the Florida Fruit and Vegetable Association and its members, as well as food and beverage companies and logistics service providers."
PortMiami is among those ports that are making ambitious investments to capture a bigger share of perishable food cargoes.
According to Eric Olafson, manager, intergovernmental affairs/cargo development, "In response to growing volumes of fruit, vegetables and fish coming in from our services to and from Latin America and the Caribbean, PortMiami has invested over $5 million in upgrades—including additional reefer plugs and investing in a new, on port state-of-the-art USDA lab—showing our commitment to providing our customers with additional infrastructure and expedited process of perishables.
"As the Perishables Gateway of the Americas, we also initiated a Fastest is Fresher campaign to inform clients of our close geographic proximity to the growing regions to our south and our close working relationship with USDA and CBP that allows for the expedited process of perishables," he says.
In addition, PortMiami offers more USDA staff than any other port of entry in the U.S., which is a plus for food shippers, and it is the only port designated a U.S. Customs Center of Excellence and Expertise for Agriculture and Prepared Products.
"Southeastern ports have a unique opportunity to grow refrigerated cargo volumes in order to serve the fastest growing population in the country, but they must stay ahead of the curve both in recruitment of private sector capacity and expansion of on-terminal capabilities in order to attract and serve this growing market," remarks a spokesperson for the South Carolina Ports Authority.
"Ports play a key role in working with private sector transload facilities to ensure they provide adequate capacity, with plans for additional space as needed. Charleston's private sector cold storage capacity has increased by 400,000 square feet in the last year with the expansion of New Orleans Cold Storage and newcomers to the region—AGRO Merchants Group and Lineage Logistics. Thanks in part to this increase; SCPA's cold storage cargo volumes increased 55 percent from 2011 to 2015.
"From an operational perspective for ports, the addition and expansion of on-terminal refrigerated cargo service areas to increase capacity are necessary, as well as adopting modern approaches to handling containers, such as the installation of reefer racks. Ports must ensure containers are quickly repaired and pre-tripped, and terminal productivity is key to delivering low gate turn times are low for truckers," adds the spokesperson.
"In a broader sense, refrigerated containers represent an important part of the heavy export cargo mix in the Southeast that requires deep water to accommodate big containers ships. Complementary to depth is expanded terminal capacity, modern technology, and bigger equipment capable of handling post-Panamax vessels for growing cargo volumes."