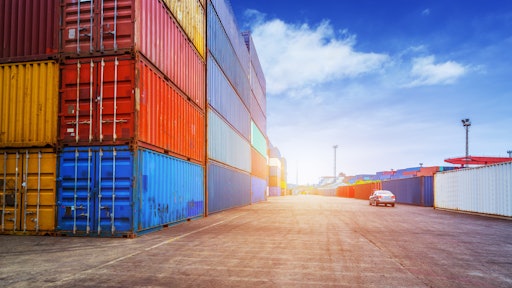 zhu difeng AdobeStock_84691685
Average demurrage and detention charges experience a year-on-year decline of 25% in 2023, with a significant 14% decrease compared to the rates in 2020, as found by Container xChange's annual Demurrage and Detention Charges benchmark report.
However, there are still 11 ports where demurrage and detention fees remain higher as compared to 2020, such as Antwerp, Jebel Ali, Ningbo, Port Kelang, Rotterdam, Shenzen, Singapore, Tianjin, Xiamen, Hong Kong, and Guangzhou.
"There are multiple factors contributing to the inability of these ports to return to normalcy. The significant increase in energy prices, coupled with higher labor costs and escalating land expenses and port fees have all played a part," says Chantal McRoberts, director, DSCA Advisory, Drewry. "Furthermore, the implementation of new regulations, particularly those focused on green energy in EU ports, has added to the financial burden. Additionally, the introduction of rules requiring individualized shipment customs clearance, no longer consolidated under one bill of lading, has proven to be time-consuming, as seen in the case of Rotterdam."
"Bleak expectations for a significant peak season with a substantial increase in volumes, prices, and the potential for congestion and associated charges are evident in our customers. However, a key factor in determining whether you must pay detention charges is the efficiency of your processes and monitoring. How quickly can you act and notify your agent or trucker if something goes wrong, such as a container being forgotten at the terminal. Timely communication is crucial in avoiding unnecessary charges. This holds true in any market situation," adds Christian Roeloffs, co-founder and CEO. "Demurrage and detention should ideally be a free market. The number of free days and the charges should be negotiable between parties and carriers, just like any other free market scenario. However, perhaps what needs regulation is the clarity on when the clock starts. Establishing clear time stamps and determining who bears the burden of proof in cases of congestion, where a container cannot be picked up, would be crucial. Payment should only commence once the terminal is able to release the container. These aspects warrant attention and potential regulation."
From Container xChange:
Demurrage and detention (D&D) rates in the shipping industry have reached unprecedented levels, especially with the Federal Maritime Commission (FMC) set to make crucial decisions.

The pending U.S foreign trade regulator's decisions on new shipping line regulations "will significantly impact D&D practices" and could even reshape the landscape, bringing both challenges and opportunities," adds Roeloffs.

In April, even before the official FMC decision, major carriers contemplated waiving D&D surcharges on weekends and holidays when terminals are closed. Additionally, the Port of Houston stopped charging import container storage fees during closed terminal gates but raised daily rates in specific positions by 32% starting May 1.

Ports in North America stand out as the most expensive when it comes to D&D charges. Leading this list of costly ports are New York, Oakland, and Los Angeles, taking the Top 3 spots.

The overall average charge has at least decreased by 25% in 2023 and stands at a value of $2008 per container per day (coming down from $2692 in 2022). The late fees at the twin ports of Los Angeles and Long Beach surpassed by another western port, Oakland.