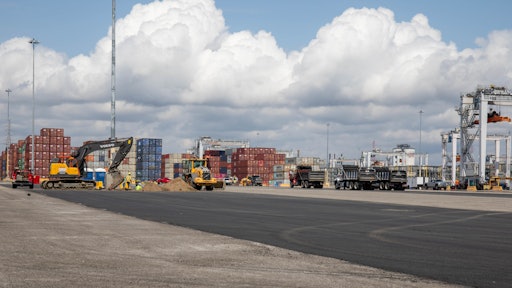 Georgia Ports Authority
Savannah Gateway Industrial Hub (SGIH), a 2,600-acre master planned multi-modal industrial park development partnership between OmniTRAX – The Broe Group's transportation affiliate – and Effingham County Industrial Development Authority (ECIDA), officially opened its doors.
The 20 million-square-foot logistics park unlocks multi-modal logistics connectivity through rail, truck and ship-to-markets.
From Yahoo! Finance
SGIH is a public-private partnership between Effingham County Industrial Development Authority and The Broe Group, parent company of affiliates

OmniTRAX

and Broe Real Estate.

A&R Logistics' new global export headquarters is fully operational.

The park's new

OmniTRAX

rail infrastructure enables its multi-modal export capability to receive shipments from CSX Transportation and Norfolk Southern Rail.
"The amazing speed of this buildout delivered well ahead of plan, under these market conditions, is a testament to the shared commitment and incredible collaboration from OmniTRAX, Broe Real Estate Group, Effingham County, the Class I railroads and the Port of Savannah," says A&R Logistics president Chris Ball. "The Port of Savannah is poised to be a key plastics export hub, and our new export operation delivers a strategic facility from which we can best serve our customers' global needs."