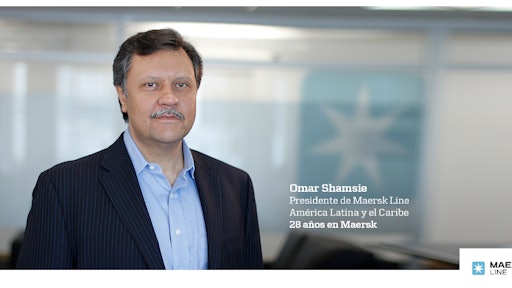 Maersk Line, the world's largest container shipping company, has appointed Omar Shamsie the new president of Maersk Line in North America, effective Dec. 1. Prior to the announcement, Shamise was president of Maersk Line Latin America & the Caribbean, and before that, president of Maersk Line Canada. Shamsie's rich background also includes director and vice president positions throughout the globe with Maersk.
In 2018, Shamise will continue developing reliable end-to-end container shipping solutions and supply chain services brought by the integration and synergies of the A.P. Moller-Maersk Transport & Logistics Company, the company said in a news release. Specific to Maersk Line, the ocean carrier arm of the transport & logistics division, his focus will be in accelerating the digital transformation and new innovative technology that can reduce customers' freight management complexity and add greater efficiency to improve the customer experience, the company said.
"I joined Maersk 28 years ago because I wanted to be part of a company that enables global opportunities through trade while making the world more connected and accessible for all," said Omar Shamsie. "I'm honored and excited to take on this new position in a region that contributes to almost one-third of global trade, with a robust key client portfolio and limitless trade opportunities. My top priority will remain with our customers, as we help them grow their businesses while improving their overall end-to-end experience. We will do this by leveraging technology and innovation, providing excellence in our customer service, and delivering reliable and consistent products to our customers."
"I've had the opportunity to watch Omar develop as a leader at Maersk over the years and I am convinced there is no better person to lead our North America team," added Vincent Clerc, chief commercial officer, Maersk Line. "I'm confident Omar will deliver the same remarkable ability to connect people, a vision and ideas to drive our strategy and customer focus in the region."
Michael White, former president of Maersk Line North America, stepped down in October to take on a newly created role as head of global trade digitization for A.P. Moller-Maersk Transport & Logistics.