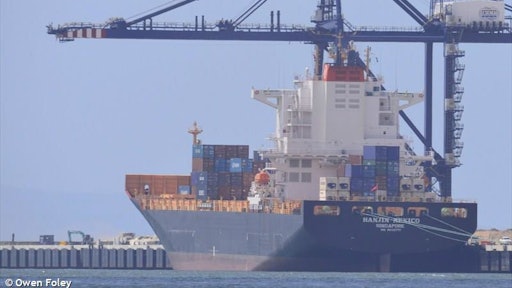 The long-term fallout from Hanjin Shipping's insolvency, reported yesterday, will have far-reaching effects, but the impact is already being felt in ports around the world, according to The Maritime Executive. Hanjin operates 98 container ships totaling 600,000 TEU, 11 port terminals and 74 sea routes, in addition to bulker operations.
In Virginia, the state's port authority has announced that its container terminals will not accept any more Hanjin cargo at Hampton Roads, and it is working out plans for dealing with the Hanjin containers it already has on site.
In Los Angeles, the Hanjin/MSC-owned TTI Long Beach container terminal said it will discontinue delivery of all Hanjin import containers and will no longer accept Hanjin export or empty containers. TTI Seattle announced that it will no longer receive Hanjin empties or exports. Other port authorities and terminals in Shanghai, Xiamen, Valencia, Savannah and many other locations have blocked Hanjin ships over concerns that the firm cannot pay port and stevedoring costs.
The Hanjin Rome was arrested in Singapore following a court petition late Monday, and shipowner PIL has reportedly refused to allow the Hanjin Mexico to continue its commercial voyage due to unpaid charter fees; the Mexico was drifting off Ulsan as of Wednesday evening.
A number of vessels have been halted outside of port entrances. Two Hanjin ships scheduled to call Wednesday in LA/Long Beach are now at anchor offshore and no longer plan to berth.
To read more, click here.
Editor's Insight: This record maritime bankruptcy could result in a spike in global shipping rates, a development that could bring some relief to carriers saddled with overcapacity and a decline in global trade. U.S. shippers – including manufacturers and retailers – reportedly are preparing for hefty rate increases, according to The Wall Street Journal. Trucking companies that haul freight from Hanjin vessels are preparing for losses. Freight brokers and shippers have been scrambling to find space with carriers in the wake of the bankruptcy.
Hanjin's fate is not sealed as of this report, but the outlook is not good, as the state-run bank rejected Hanjin's plan to settle its debt. 9-1-16 By Elliot Maras