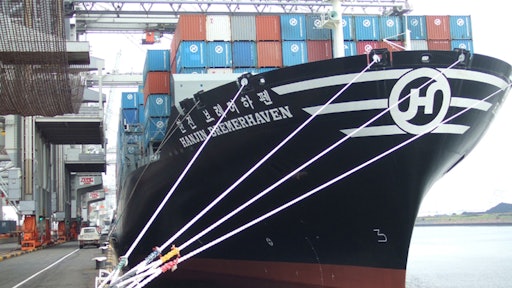 South Korea's largest ocean carrier, Hanjin Shipping Co Ltd. filed for court receivership on Wednesday after losing the support of its banks, setting the stage for its assets to be frozen as ports worldwide denied access to its vessels, according to Reuters. A bankruptcy for Hanjin Shipping would be the largest ever for a container shipper in terms of capacity, according to consultancy Alphaliner, exceeding the 1986 collapse of United States Lines.
Banks led by state-run Korea Development Bank withdrew backing for the world's seventh-largest container carrier on Tuesday, saying a funding plan by its parent group was inadequate to tackle debt that stood at 5.6 trillion won ($5 billion) at the end of 2015.
Hanjin Shipping announced the filing for receivership and a request to the court to freeze its assets, which the Seoul Central District Court planned to grant, a judge told Reuters, declining to be named.
The court will now decide whether Hanjin Shipping should remain as a going concern or be dissolved, a process that usually takes one or two months but is expected to be accelerated in Hanjin's case, the judge said.
Global shipping firms have been swamped by overcapacity and sluggish demand, with Hanjin booking a net loss of 473 billion won in the first half of the year.
South Korea's ailing shipbuilders and shipping firms, which for decades were engines of its export-driven economy, are in the midst of a wrenching restructuring. The KDB's decision to stop backing Hanjin Shipping shows the government is taking a tougher stance with troubled corporate groups.
To read more, click here.