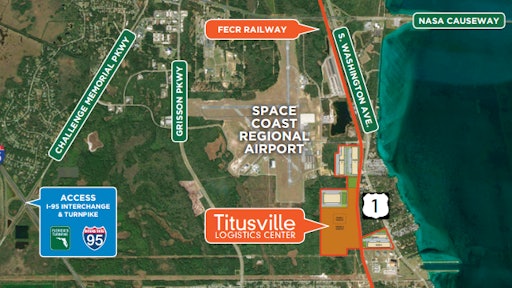 Port Canaveral recently completed construction of its first inland port facility, the Titusville Logistics Center, according to spacecoastdaily.com, a news outlet.
This makes Class A warehousing available for the first time to cargo customers and other companies interested in logistics and distribution facilities near the Port.
Less than 15 miles from the Port, the building is located on U.S. 1 near I-95 and just 37 miles from Orlando International Airport.
Port Director of Real Estate Scott Shepard said there is active leasing interest in the 246,736 square-foot dividable space and, now that construction is complete, he expects potential tenants to begin finalizing decisions.
"No one has a building like this in all of Brevard County," Sheppard said, "so it's very advantageous for companies that want to get an operation up and going in the next year. This type of space is very important to bringing in cargo customers, manufacturers and distribution centers."
"Not only will this facility help bring more cargo through our port," said Port Commission Chairman Jerry Allender, "it also will create more jobs in the north Brevard area. It's a win-win for the Port and the community."
To read more, click here.