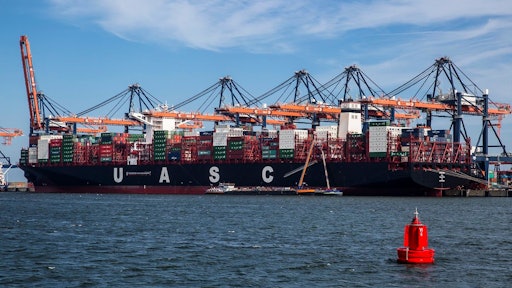 The shareholders of Middle East container shipping group United Arab Shipping Company (UASC) back the company's merger talks with German rival Hapag-Lloyd although there has not yet been a vote to approve a deal, UASC said on Thursday, according to The Maritime Executive.
UASC, which is owned by Gulf governments, said the merger talks were discussed at an extraordinary general meeting of shareholders on Thursday at the company's office in Dubai.
"While the shareholders' representatives at the extraordinary general meeting were generally supportive of the ongoing discussions with Hapag-Lloyd and recognized the strategic value of a potential combination of both businesses, no formal vote was held today on this topic since the full agreement has not been finalized," UASC said in a statement.
If a deal is reached, it will create a group with an estimated combined enterprise value of around seven billion to eight billion euros ($7.8 billion to $8.9 billion).
UASC said it was continuing discussions with Hapag-Lloyd "to reach an agreement on the envisaged combination, in which case, another extraordinary general meeting of UASC shareholders will then be convened."
At the company's meeting on Thursday, amendments to UASC's Articles of Association, which govern company structure, were approved, the statement said without elaborating.
They were among the first comments on the potential deal from Kuwait-based UASC, owned by Gulf Arab states and in which Qatar holds a majority stake.
Hapag-Lloyd postponed its annual general meeting scheduled for June 1 due to the merger talks with UASC.
With a fleet of 175 modern container ships and a total capacity of 955,000 TEUs, Hapag-Lloyd is one of the world's leading container liner shipping companies. The company has approximately 9,400 employees at 361 sites in 118 countries. Hapag-Lloyd has a container fleet of 1.6 million TEUs – including one of the world's largest reefer fleets.
Hapag-Lloyd recorded a positive operating result in the first quarter of 2016. Despite the difficult market environment, transport volume increased by 2.1 percent to 1.81 million TEUs in the first three months of 2016 compared to 1.77 million TEUs at the same time last year.
Last month Hapag-Lloyd formed a new alliance with five Asian competitors as rivals team up to cut costs in the worst downturn the industry has ever seen.
To read more, click here.