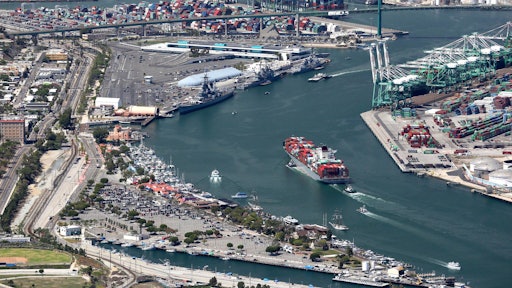 The ports of Los Angeles the Long Beach saw imports jump in August, kicking off what analysts expect to be three strong months for shipping leading into the holiday season, according to The Wall Street Journal.
Imports through Los Angeles were up 6.3 percent from last August, with the port receiving 407,804 20-foot equivalent units, a standard measure for container cargo. The neighboring Port of Long Beach moved 358,262 import TEUs, an increase of 19.1 percent over last year. Combined, the ports are the largest entry point for container cargo to the U.S., with the vast majority coming from Asia.
U.S. ports could see imports rise even more next month with the arrival of goods from China that were shipped after the country devalued its currency. China cut the yuan's value last month, making items produced in Chinese factories cheaper for foreign buyers. However, the ocean trip from Asia to the U.S. can take nearly three weeks, so orders made after the devaluation would only start showing up at West Coast ports in early September. The dollar's increased buying power in China, along with healthy U.S. consumer demand, should lead to surging traffic at major ports, analysts say.
To read more, click HERE.