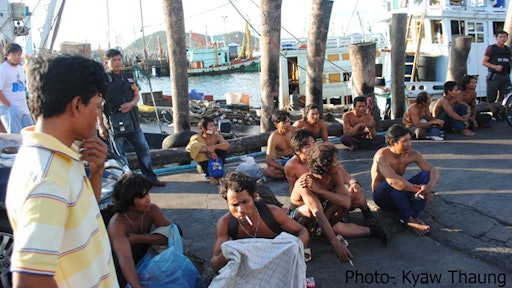 An International Transport Workers' Federation (ITF) delegation has boarded industrial fishing vessels landing their catch in Songkhla port, Southern Thailand last week, as part of an investigation into labor rights abuses, according to The Maritime Executive.
The four strong team, who will be in Thailand for six days, found that fishers on board were subject to poor working conditions, cramped accommodation and long contracts, some of them with no hope of returning home with any pay.
ITF inspector Keith McCorriston commented on the conditions found on a vessel he inspected: "The crew were scared to talk to us. They had no contracts, no toilet, no shower, no mattresses. Cooking facilities consisted of an open flame and basic utensils, the 24 crew slept in cramped accommodation. We spoke to one fisher who had been on board for 10 months, although we suspect this is a gross understatement."
Apinya Tajit from the Stella Maris Seafarers' Centre in Sriracha explained: "We are dealing with many cases of abandoned fishers in Thailand and of Thai fishers outside of Thailand. We know of one fisher who was abandoned in hospital with no pay after breaking his leg while on board a vessel. He has never had any pay after two years on board. We're paying his medical bill. Another fisher is so traumatized by his experiences of abuse that he needs trauma counselling. He struggled to explain to us how he was chained up like a dog for trying to escape the vessel he was on."
To read more, click HERE.