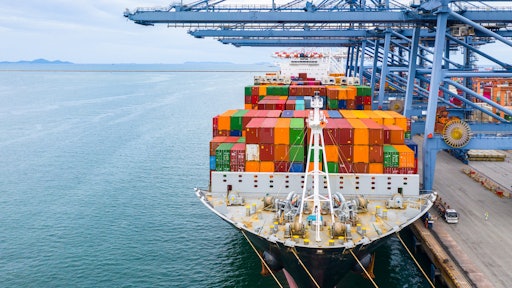 Kalyakan
The industry is entering into a new phase of the Coronavirus disease (COVID-19) pandemic. Carrier trends are emerging from the initial shock to the ocean market. U.S. imports are so strong that American consumer demand is pulling available capacity away from other trade lanes, disrupting global supply chains.
Tracking the impacts helps to understand the future of the Transpacific.
3 trends worth tracking
Most companies know import demand is swallowing available ocean capacity. Right now, there are three major trends worth tracking:
Southeast Asia rose in importance due to various factors, including regional responses to COVID-19. Carrier routes and deployed capacity reflect this shift.
Smaller carriers are gaining in number, momentum and market share.
Many carriers are expanding into new premium service offerings and dedicated strings outside of the three dominant container shipping alliances.
One thing the past year has proven -- where there's demand, supply will follow.
The rise of Southeast Asia reshuffles carrier rankings
Carriers that invested in Southeast Asia have been able to gain significant market share in 2020 and 2021.
There's a world of background here. A decade ago, supply chain decisions were less complex than they are today. Companies could choose the ease of outsourcing everything to one supplier, often in China, and be mostly done.
Now, decisions are layered. Before COVID-19, a U.S.-China tariff war contributed to companies diversifying their suppliers. Then, COVID-19 triggered an extraordinary level of goods demand with no end in sight.
Impacts cascade from there. Factory workforces are scaled down or staggered as a public health precaution. Shipping capacity is under great pressure everywhere.
Countries like Vietnam, Cambodia, and Malaysia have capitalized on these factors and seen immense growth in exports to the United States in the past few years.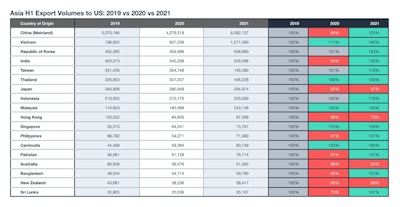 Will Southeast Asia keep performing?
Since June, a new rash of COVID-19 outbreaks has overwhelmed supply chains once more. Southeast Asia has been particularly hard-hit. Restrictions especially threaten factory production in Vietnam.
Regional COVID-19 restrictions in Southeast Asia mean we can expect more blank sailings in the near term. When the situation improves, container shortages in that area will follow because empty equipment is not being brought in. With less effective capacity, expect Southeast Asia share to drop temporarily in the months to come.
When restrictions are lifted, the larger trends in the region are likely to hold. Carriers will remain growing in Southeast Asia.
A bigger chunk for smaller carriers
High Transpacific market pricing is attracting new capacity. Smaller niche shipping lines have all deployed new Transpacific services.
Existing smaller or niche carriers are also adding a lot of extra capacity.
The success of these smaller, rapid-growth carriers makes sense. Some are simply adding Transpacific capacity at a time when it's desperately needed. Others provide unique premium offerings to reduce lead times and avoid congestion at major port terminals.
Expect this trend to continue into 2022. As capacity demand changes with time, only the carriers that create real value for clients—via price or premium quality—are likely to stay in the Transpacific market in the long run.
New service offerings
The need for greater value is driving carriers to introduce new services.
Some carriers have successfully launched multiple premium services, like fast boats, priority discharge and priority rail service to inland destinations. Each of these services features their own benefits, depending on the specifics of transit needs.
These premium services now make up a sizable portion of the ocean market with approximately 30,000 TEU of dedicated capacity each week, equivalent to roughly 5-6% of all Transpacific capacity. If you add loading and equipment guarantees, that portion of the market shoots up to around 20% or more of the entire trade lane.
Real premium services are the ones that offer competitive advantage to a client—for example, reduced lead times.
Hence, once supply and demand balance improves, these are the services that will continue gaining share in the market. Other premium offerings are good temporary solutions to keep cargo moving in a capacity (and equipment) constrained market.
These new premium services are also how ocean freight, with its relatively lower cost when compared to air freight, can support product launches, just-in-time replenishment or shorter product cycles. In some instances, the speed gained in transit allows for additional product cycles, leading to greater opportunities for profit or growth.
With supply chain visibility, it's easier to make efficient decisions about which goods are worth transporting via premium services. When you can track down to the SKU level, you can manage delays with focused responses.