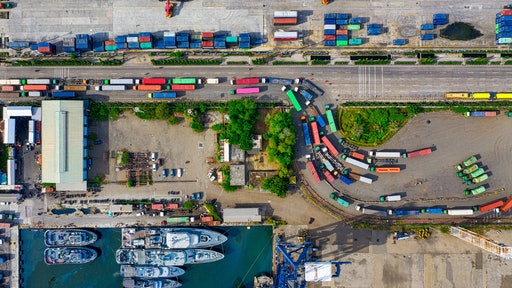 Getty Images
The world is in the midst of an ongoing crisis as the container shortage ensues. As a result, an increasing queue of vessels trying to dock and unload has created a holdup in the global supply chain and has an immense trickle-down effect on the end consumer. As the Coronavirus disease (COVID-19) Delta Variant strain continues to make its way across the United States, we're seeing an increase in vessel wait time at ports leading to immense inefficiencies and continued delays.
It is important that port managers prioritize gaining access to automation and Internet of Things (IoT) technologies that allow for real-time monitoring data on incoming and outgoing assets. As the pandemic ensues, operations managers need to be able to more effectively control for and plan for port overflows, as we risk increased congestion going into year's end.
Reducing congestion
When it comes to supply chain congestion, for fleets using telematics, over-the-road transport efficiencies have been maxed out due to regulations on speed limits, hours of service, weight limits, cold chain and even chain of custody for grocery and prescription items. As such, it's important that focus is placed on reducing port congestion as quickly as possible so port managers can get containers off the cargo ships faster and loaded onto chassis so they can expedite supply chain movement. Port managers can play a major role in breaking up supply chain congestion by increasing load and unload speeds and reducing dwell time.
IoT asset management
Monitoring the movement of assets like containers, chassis and trucks is critical for port management. With real-time visibility provided by IoT technology, port managers can easily determine asset location. This allows them to effectively manage port overflow by mitigating any impending backups at the port. For example, if the containers and chassis have tracking devices, fleet managers can coordinate with port managers to find parked assets, determine whether they are full or empty, and move the asset where needed in order to expedite the ongoing flow at ports. Especially when it comes to refrigerated containers, time is of the essence to ensure the cargo remains fresh. With digitized tracking and access to real-time information, managers are able to increase container utilization and reduce transit cycle times. What's more, with asset monitoring of cranes and forklifts, managers can also quickly determine which equipment may be underutilized and easily assign them to unload containers.
Virtual gating
Technology like virtual gating can help keep track of assets moving in and out of ports and in and out of facilities like warehouses or manufacturing sites. Virtual gating uses wireless technology such as BLE sensors and cellular-based telematics platforms use signal attenuation as well as geolocation. As a vehicle moves through the gate, the system devices recognize each other and use the direction of the vehicle to know if it's in or out of the gate. This information ensures there is accountability and port managers have a reference point on how long assets are taking to move in and out of the ports. Virtual gating is also used as a security measure to ensure there is no unauthorized movement of assets or that incorrect assets are not picked up accidentally. This takes some of the guesswork out of port management and helps managers to easily pinpoint issues in the cycle and eliminate them.
Ensuring safety
Factors such as low automation and environmental conditions at ports can lead to occupational health and safety risks and cause significant backups. In the last decade, we've seen an increase in shipping traffic, and as a result, port infrastructure has been modified to manage the influx. According to a study from Safety Science, in one port studied, the frequency index (injuries per hundred thousand hours worked) went from 13.0 to 29.7 over 16 years. And, one of the main risk factors revealed an increase of accidents due to transport vehicles. As such, safety and access control need to be a top priority at ports to ensure not only the safety of personnel but also reduce expensive damage to equipment, both of which can cause further delays. With access to image recognition technology incorporating artificial intelligence, assets like forklifts can determine whether pedestrians are in the path to avoid accidental injury and improve personnel safety.
Effective equipment handling
As ports have grown in size, they have also decreased the number of employees needed to run them thanks to automated control systems. However, according to the Safety Science study, there is an increase of young or low-experienced workers in handling containers, which can also lead to the risk for occupational injuries. With improved material handling technology, port supervisors are able to clearly determine who is approved to operate certain equipment. This technology can also alert supervisors if the equipment is meant for indoor or outdoor use specifically so there is no mix-up and severe equipment damage is avoided. By enabling more asset visibility, ports can benefit from increased productivity and safety performance.
Reducing port congestion has clear ripples throughout the supply chain. And, as ports continue to grow their intake capacities, it is essential that they adopt leading-edge technologies that provide increased asset visibility. This will ensure that loading and unloading are expedited in a secure manner to guarantee cargo quality while also enhancing safety.