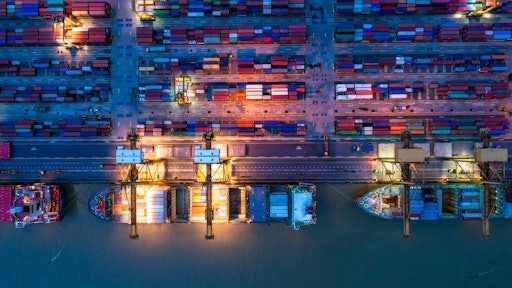 TradeLens, the blockchain-based solution announced last year by Maersk and IBM, continues to gather momentum. Today, data on more than half of the world's ocean cargo is committed to the TradeLens platform and expected to be fully available by first quarter of 2020.
TradeLens is an open and neutral industry platform which uses the Hyperledger Fabric permissioned blockchain to guarantee the immutability and traceability of trade documents. The platform was built to bring together thousands of separate trading partners with a common approach to sharing information and documents securely and quickly, in line with Maersk's vision to connect and simplify customers' supply chains through seamless customer engagement and end-to-end offerings. Currently, the platform handles more than 10 million events and more than 100,000 documents every week.
Process Improvement Mission
Rapid adoption of TradeLens across the global shipping supply chain continues. Hapag-Lloyd and Singapore-based Ocean Network Express (ONE) Pte. Ltd are among the recent participants to join TradeLens. Hapag-Lloyd and ONE, the world's fifth- and sixth-largest carriers, respectively, join CMA CGM and MSC Mediterranean Shipping Company, both of which recently announced they are joining TradeLens. With these additions, the scope of the platform now extends to more than half of the world's ocean container cargo.
Todd M. Smith, IBM's vice president, global trade—blockchain, says the world's training ecosystems need to be modernized. He notes that the process for transporting and trading goods remains costly, manual and paper based.
"The global shipping industry moves more than $16 trillion worth of goods around the world and across borders annually," Smith says. "Nearly 80 percent of the items consumers use daily are, at some point, shipped by container. However, the associated paperwork and documentation needed to move cargo globally can be exchanged over 100 times for a single shipment. That's hugely inefficient and is exactly the type of process we are on a mission to help the industry improve."
Smith says TradeLens provides clearer views across trading partners and greater transparency and simplicity in the movement of goods. As a result, the technology is helping change how global trade is done. Participants in the TradeLens network are able to quickly pinpoint where their cargo is located and its state of availability. This reduces time for truckers and drayage drivers, reduces port and terminal congestion, minimizes customs and inspections delays, and ultimately shortens the lead time required for shipment delivery. Shippers, distributors and regulators can quickly access trusted and essential information via the blockchain, reducing the amount of paper documentation and improving costly and time-consuming operations, such as freight audit and invoice handling.
TradeLens confirms the scope of the challenges the global shipping industry faces, Smith says. For example, simple actions needed to understand container status can take hours or days to resolve. The costs associated with managing the information in supply chains often exceeds the costs of actually moving goods. However, there's also confirmation that the value exists. TradeLens is offering customers significant increases in shipment visibility, and this data will only improve as the ecosystem and platform evolve and grow.
"We continue to integrate more data to the platform in real time and direct from the source, mitigating the latency that often exists even in the fastest supply chains," he says.
Expanding Partners and Digitization
TradeLens is demonstrating that major carriers are ready, willing and even eager to get involved, according to Smith. They realize that digitization of their processes and workflows is a must. By working together, they can drive change. He says collaboration across the industry means that the TradeLens community now has the clout to tackle some of the industry's trickiest challenges. For example, negotiable e-bills of lading is high on that list. "The benefits of TradeLens are seen by all who join the ecosystem," Smith says. "The model we are building is designed specifically to benefit all parties no matter your role. The benefits themselves can and will differ by need and where an organization sits in a supply chain. Shippers and consignees generally engage with the platform as a consumer of shipping information to improve their control tower operations and as a means to improve collaboration with supply chain partners with tasks such as streamlining customs clearance."
Freight forwarders and 3PLs benefit similarly but put these benefits to use for their broader customer base, he adds. Carriers, terminals and ports authorities contribute data and benefit from having access to easily share and consume with those around them.
"For many years, blockchain technology has been hailed as a potential core technology to create trust and transparency in global shipping and logistics," says Michael White, head of TradeLens at Maersk. "With TradeLens, Maersk has been taking a leading role in digitizing global trade, and the level of industry backing indicates that our solution has enormous potential to transform the shipping industry as we know it."
White says for the shipping industry, blockchain is transformative in that it is increasing trust in documents and information workflows—something the industry has lacked entirely. What was only available to the very top companies in the space is now available to the mid-market as well, expanding the market to new players that previously faced high barriers to entry. With more than 100 participants on the platform today, TradeLens is already processing more than 10 million discrete shipping events and thousands of documents each week, providing shippers, carriers, freight forwarders, customs officials, port authorities, inland transportation providers and others a common view of transactions—and building trust in the process.
"Major carriers such as CMA and MSC have signed up for the platform to increase visibility of end-to-end shipment milestones which provide benefits for their existing customers, while finding opportunities to optimize operations and reduce overall costs," White says. "This is made possible by greater collaboration and seamless, secure sharing of real-time, actionable supply chain information across all parties—encompassing shipping milestones, cargo details, sensor readings and more. Enabling the digitization and automation of cross-organization business processes is integral to global trade. TradeLens—thanks to blockchain—helps ensure all transactions, documents and data are secured and auditable."
Hapag-Lloyd pursues a multi-platform approach to technology, according to spokesman Andre Zimmerman. The company keeps a watchful eye on developments and the various technology initiatives in the industry. As blockchain is concerned, Hapag-Lloyd believes that this technology can be an enabler to digitize the maritime supply chain and increase interoperability across the industry.
Hapag-Lloyd is also part of the new Global Shipping Business Network (GSBN), another blockchain-based initiative. Zimmerman says Hapag-Lloyd believes that new technologies such as blockchain offer opportunities which can be utilized in close cooperation with customers and suppliers as well as competitors. Using platforms like GSBN or TradeLens, Hapag-Lloyd is creating networks in which information can, beside other benefits, be transmitted throughout the industry efficiently and with a low rate of error.