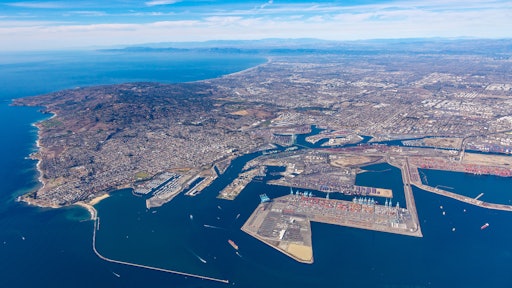 Refrigerated cargo comprised mostly of perishable food continues to serve as a steady and reliable cargo segment for the Port of Los Angeles and neighboring Port of Long Beach, says Marcel Van Dijk, marketing manager for the Port of L.A. 
In 2018, the Port of L.A. saw 1.9 million metric tons of reefer cargo move over its docks. The majority of that cargo was a mix of dairy, meat, fruit and vegetables, with a fairly even balance between imports and exports. At neighboring Port of Long Beach, another 1.7 to 1.8 million metric tons of reefer cargo was handled last year. Both ports handled about the same volume of reefer cargo in 2018 as they did in 2017, notes Van Dijk.
Although there wasn't significant growth in reefer cargo imports/exports over the past two years, "It's a very good commodity because even if there is an economic downturn, [perishable food cargoes] do not drop too much," he points out.
Port of L.A. Sees Opportunity in Automation
The Southern California region is an important market for produce importers with about 21 million-plus consumers within a 200-mile radius of the port complex. Some produce even goes to Arizona, Nevada, parts of New Mexico, and up to the San Francisco Bay area, says Van Dijk.
There are six cold storage facilities within 10 miles of the port complex that provide 170,000 pallet positions, devoted mostly to perishable food imports/exports, which is supplemented with a sizeable network of cold storage facilities in the greater Southern California region.
The Port of Los Angeles handled nearly 9.5 million TEU last year; slightly more than the 9.3 million handled the year prior. While growth is welcomed, "The arrival of very large container ships does present more of a logistics issue at the terminals," says Van Dijk, particularly when it comes to getting cargo moved off the terminals and to an inland distribution center.
"We need to be smarter," he acknowledges, which means implementing more automation at the terminals to expedite the increasing volume of cargo moving through the port.
Port automation remains a sensitive issue, however.
In April, the Los Angeles Board of Harbor Commissioners delayed for a second time a vote on whether to grant APM Terminals a permit to automate its facility at the Port of Los Angeles. While the terminal operator stresses that automation is critical in order to remain competitive, the potential impact on dockworker jobs is a huge concern for the International Longshore and Warehouse Union (ILWU), which opposes the automation proposal.
The large container ships calling the Port of Los Angeles typically carry 14,000-plus TEU and most of that cargo—85 to 90 percent—is off-loaded in L.A., which means the vessel is at port for a longer duration, explains Van Dijk, usually four-and-a-half days compared to the much shorter (16-24 hour) call the vessel makes at European ports during a typical loop service.
It's somewhat of a "unique" situation, yet Van Dijk says the port is always looking to improve its service levels, which are key for time-sensitive, refrigerated perishables.
"The containers are still spending too much time on the terminal," he says. It's not as bad presently compared to what the port experienced during the last quarter of 2018 and in January and February. But, that period was a bit of an anomaly, and due to an abrupt spike in imports from China that were aimed at beating the imposition of additional tariffs by the Trump administration.
"We saw a lot of cargo moving in advance of the Jan.1, 2019 deadline [for the imposition of tariffs on Chinese imports], but then the additional tariffs were postponed until March, and now [the tariffs] have been postponed indefinitely," says Van Dijk.
As a result, congestion materialized not only at the L.A.-Long Beach port complex but in Asia as well.
"The ports of Los Angeles and Long Beach had 34 additional ships that were extra loaders—vessels that were not in a regular loop. They put 24 additional ships in that loop during the winter season. We are digging out now. There are still a lot of empty containers from that period that were going to the Midwest and are now coming back to be repositioned in Asia. So, we have a lot of empty containers on the terminals, which adds to the congestion," he says.
Chassis management is also an issue, Van Dijk adds. If a beneficial cargo owner (BCO) drays a container to the warehouse, but the warehouse is full and cannot accept the load, then the chassis and container are kept in the yard until space is freed up. This essentially takes the equipment out of service, creating a chassis shortage.
Moreover, many big-box retailers naturally have a close relationship with the ocean carriers, which mean they sometimes get a break when it comes to detention fees that are assessed on equipment that is not returned timely.
In this scenario, the smaller shippers are at a disadvantage "because there is either no chassis available for their cargo, or not enough chassis for their cargo," says Van Dijk. This is an example of where asset-tracking technology can be applied to facilitate a more efficient terminal operation and cargo flow, he adds.
"We need to know where the chassis are, where the empties are, because while some terminals may have enough, the terminal next door might not have any."
Meanwhile, Van Dijk spends considerable time talking with and visiting reefer BCOs to understand their concerns and gather information on cargo forecasts. At least once or twice a year he visits California's Central Valley to talk with food shippers.
"I update them on the situation at the port, and they give me information such as where their grape shipments will be headed…whether more are going to Southeast Asia and less to China, for instance."
Getting Products Closer to the Consumer at Port Tampa Bay
Across the country at Florida's Port Tampa Bay, perishable food cargoes are a fast-growing cargo segment. The opening of Port Logistics Refrigerated Services (PLRS), the on-dock cold storage facility, in 2017, is fundamental to that growth.
PLRS handles both breakbulk and containerized cargo. The 135,000-square-foot facility has 6,348 pallet positions, 96 reefer plugs, on-site radiation portal monitors, and uses a glycol refrigeration system instead of ammonia.
According to Wade Elliott, vice president of marketing and business development at Port Tampa Bay, the goal is to deliver product quickly and as close to the customer as possible.
In September, Port Tampa Bay and PLRS received its first shipment of Costa Rican pineapples via Seacat Line, on behalf of Chestnut Hill Farms, the third-largest pineapple importer in North America.
"This new routing provides us with excellent access to serve our customers in Florida and throughout the southeastern United States. We expect this will be the first of regular ongoing shipments," remarked Raul Romero, president and COO of Chestnut Hill Farms.
The port is also handling imports of avocados, mangoes, limes, and other perishable foods from Mexico shipped via expedited services provided by TransGulf and Linea Peninsular.
Juice is also an important commodity for Port Tampa Bay, says Elliott, who added that poultry exports are another opportunity the port is looking at currently.
China Ocean Shipping Company (COSCO) added Port Tampa Bay to its Gulf of Mexico Express (GME) trans-Pacific service, with the first vessel from arriving in January. The weekly containerized service supports food/beverage shipments and other cargoes, such as furniture, construction materials and textiles.
Meanwhile, CMA CGM will begin calling Port Tampa Bay in late May with its PEX3 service, whose rotation includes: Singapore-Vietnam-Hong Kong-China-Korea-Panama Canal-Houston-Mobile-New Orleans-Tampa-Miami.
Port Tampa Bay's president and CEO, Paul Anderson, said the announcement by CMA CGM "is a further testament to the growth of the U.S. Gulf market and the significance of the Tampa Bay/I-4 Corridor region, home to the state's largest concentration of distribution centers, which has become the heartbeat of Florida's international trade."
The ongoing population growth in Florida, and more specifically the central region of the state, including Tampa and Orlando, figures significantly in the port's expanding business, adds Elliott.
Florida's population is roughly 22 million, in third place behind California and Texas, he says. "In addition, we have another 125 million tourists who visit every year," with many of them concentrated in the Tampa and Orlando area.
The region is also a major hub for the grocery and food and beverage sectors. Grocery chain Publix is headquartered in Lakeland, Florida, while Sysco, Walmart/Sam's Club, Goya, and Southern Wine & Spirits also have a significant presence there, says Elliott.
Port Tampa Bay continues to work on the next phase of its development, a "food campus" for dry/ambient products along with additional refrigerated warehousing for storage, packaging and distribution of perishable food and beverage products.
Elliott notes that, "We've been fortunate to continue our expansion without any hiccups or congestion," which includes "really good gate turns" as well as "easy access" to primary transportation roadways.
"We want to make sure we're staying ahead of the curve and don't run into any problems down the road with growth. Some ports are more constrained [in their ability to expand], but we are blessed in terms of having the land."