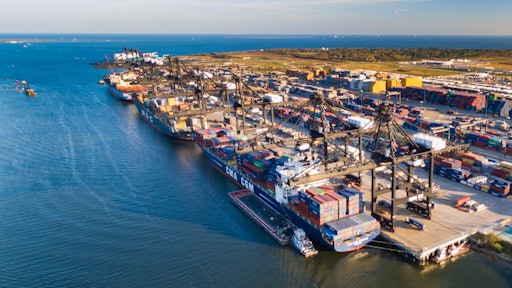 Port Houston
The Houston, Texas metropolitan area is in growth mode, both in terms of population growth and economic expansion. Despite a few "tough years" attributed to weak oil prices, last year was a marked improvement "and Houston's growth is back on a strong path," reports the University of Houston's Institute for Regional Forecasting. 
Trade is a major driver for Houston's economy, with the value of both imports and exports posting double-digit increases from November 2017 to November 2018. Mexico is the region's top trading partner. From 2008 to 2017, trade between Houston and Mexico averaged $23.3 billion annually and was valued at $20.1 billion in 2017. Other top trading partners include China, Brazil, the Netherlands and South Korea.
Petroleum and petroleum products comprise the top imports and exports, but perishable food—chilled and frozen—is a sector that the port is eager to grow.
Ricardo Arias, trade development manager at Port Houston, says that investments in cold storage capacity for frozen protein (beef, poultry and seafood) have been steady, but facilities that offer chilled storage, especially for imports of fresh produce, is slightly lagging.
Fresh produce also requires USDA inspection capabilities and fumigation services, and the port is making investments in both.
Handling chilled food versus frozen is more complicated, acknowledges Arias.
For instance, on the transportation side, if an outbound shipment of frozen meat misses a sailing, it can easily be rescheduled to the following week without impacting the integrity of the cargo. However, if an inbound shipment of fresh produce is delayed, whether it's for USDA inspection or fumigation, for example, the freshness can be impacted.
There's a bit of conundrum though with regards to adding capacity for chilled produce. Cold storage operators understandably seek assurance that there will be sufficient volume to justify investments, yet shippers need to have infrastructure in place before committing to shipping perishable goods through the port.
"It's not an impossible task," says Arias, adding that the port is doing its part to help with infrastructure development.
Recently, Port Houston installed more reefer plugs to support growth in refrigerated cargo. Meanwhile, the port continues to make strategic investments to increase its ability to handle more containers and bigger vessels.
Last August, the port installed three new 270-foot super post-Panamax cranes at its Bayport Container Terminals and took delivery of five new rubber-tired-gantry (RTG) cranes. The three new cranes bring the total ship-to-shore cranes operating at Bayport and Barbours Cut Container Terminals to 26, with 13 of those being super post-Panamax cranes. Five more RTGs were delivered to the port in September.
All told, Port Houston's investments in terminals, equipment and infrastructure totals about $1 billion.
"It's important for the trade community to know that Port Houston is in growth mode," emphasizes Arias.
Nonetheless, the ongoing trade tensions between the U.S. and China are being felt in Houston, according to a report from the Greater Houston Partnership.
"China ranks as Houston's second-largest trading partner (behind Mexico), with more than $18.8 billion in goods moving between Houston and the Asian nation in 2017," adding up to 9.8 percent of all international trade for the region, according to the agency. Most of the exports from Houston to China were related to the energy industry, including oil, fuels, chemicals, plastics and industrial machinery. The top goods imported through Houston from China include industrial machinery, electrical machinery, computers, iron and steel, and consumer goods such as toys and furniture.
"Houston's relationship with China has grown more important over time," adds the Greater Houston Partnership. "In 2001, China ranked 14th among Houston's trading partners. Since 2015, it has ranked either first or second, often trading spots with Mexico."
Coffee Perks Up Imports
There are only five ports in the U.S. that are designated as a coffee exchange port by the New York Board of Trade, and Port Houston is one of them.
When the designation was received in 2003, it provided the port with a higher profile among coffee traders. Specifically, it meant that Port Houston was an approved delivery point for the Coffee "C" futures contract trades on the New York board of Coffee, Sugar & Cocoa Exchange.
According to the Greater Houston Coffee Association, there are over 50 coffee-related companies in the Houston region and more than 160 in Texas. In addition, the region has over one-third of the market and is the only coffee exchange port west of the Mississippi.
Last April, Sealand – a Maersk company, launched a new service, the Gulf Ocean Express (GOEX), that connects Port Houston with Central America, Panama and Colombia. While the service supports exports of frozen meat and other commodities from Port Houston, coffee and other agricultural goods are among the imports transported via Sealand's GOEX service.