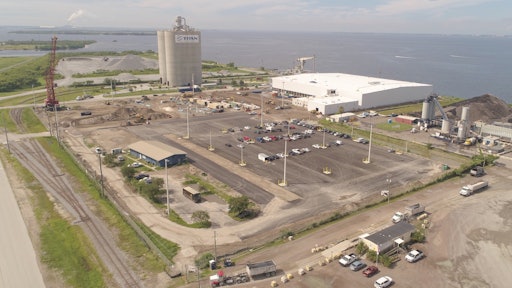 Florida is one of the fastest growing states in the nation, and the third most populous. It's also a top destination for tourists, with 125 million expected to visit the state this year. Many of those visitors will spend time in the Orlando and Tampa Bay areas, says Wade Elliott, vice president of marketing and business development at Port Tampa Bay.
Not surprisingly, the strong population growth and rising tourism are driving demand in the food and beverage sector. This is especially good timing for the opening of a new cold storage facility operated by Port Logistics Refrigerated Services (PLRS), located at Port Tampa Bay, which is helping support the agricultural community, importers and exporters, foodservice providers, grocers and others with an unparalleled value proposition in the ever-expanding global food supply chain.
The region is already a major hub for the grocery and food and beverage sector, explains Elliott. Publix, one of the 10 largest supermarket chains in the United States, is headquartered in Lakeland, Florida, and operates large distribution centers (DC) there and in eight other cities throughout the state, as well as Georgia and Alabama. Sysco's International Food Group, Wal-Mart/Sam's Club, Goya, Southern Wine & Spirits and others also have a presence in the I-4 Corridor that runs east-west through central Florida, from Tampa to Daytona Beach.
The port's location in the middle of the state makes it feasible for truckers to make three daily round-trips to major grocery DCs along the I-4 corridor and stay within the requirements of the hours-of-service regulations. Trucks also can reach Atlanta and the Carolinas within one day's drive from the port.
As for the new PLRS facility, Elliot says that from the port's perspective, it's "definitely a big deal" and "a really good fit with our continued diversification of our different lines of business."
Port Tampa Bay has been making a number of strategic investments to support its diversified business portfolio, which includes food and beverage. For example, the port's close proximity to Central and South America, including Mexico, provides an obvious advantage for importers and exporters.
According to Elliott, the port is still exploring all the trade potential associated with Mexico alone. "We've already seen some pretty sizeable growth in that trade lane over the past year," he says, noting that the all-water option from Mexico to Port Tampa Bay is faster and more cost effective compared to truck or rail transportation.
In addition, the port installed two new post-Panamax gantry cranes last year, allowing it to accommodate vessels up to 10,000 TEUs. Increased trade with Asia presents another opportunity for the port, particularly for citrus products and juice, while Sysco International Food Group's restaurant-related exports to Latin America, the Caribbean, and even the Middle East and Asia is another area that could see expansion as the port continues to enhance its perishable cargo handling capabilities.
Rick Sharp, vice president of business development and operations at PLRS, says the new facility offers a host of features that truly set it apart from other facilities.
For starters, it's designed to handle both breakbulk and containerized cargoes, which is very attractive with the current rate hikes on containerized cargo. It also makes it easier for shippers to expedite their palletized cargo coming off a breakbulk vessel straight to a regional DC. For reefer containers, the facility has 96 reefer plugs and a 100-ton crane to handle containers.
A separate temperature-controlled fumigation building can treat product quickly and safely, as opposed to fumigating in a large warehouse that is not temperature-controlled. The dedicated fumigation building uses high-speed fans to rid the building of gas within five minutes, so employees can move the product back into containers or trailers and deliver to the customer in a timely manner, eliminating hours from the process.
Sharp says there are other features that make the PLRS facility state-of-the-art. A 22-pallet-deep gravity fed racking system guarantees freshness with first in, first out inventory management. Furthermore, the facility uses a glycol-based cooling system, as opposed to ammonia, which is much safer for employees and food and beverage products.
"Ammonia is very harmful to humans and products. If it comes in contact with a product, the product becomes contaminated and must be thrown out," says Sharp.
The glycol-based cooling system is more costly to install upfront, but in the long term, it runs more efficiently and uses less electricity, he notes.
In order to accommodate a wide range of perishable products, the facility can be sectioned into seven different temperature zones. Some of the rooms are racked, some are not, and can be used to support packaging operations. Sharp also has received some customer interest for a ripening room for bananas, which is another potential use.
The various temperature zones also provide flexibility and support for product inspections conducted by the United States Department of Agriculture (USDA) and Customs and Border Patrol. In fact, the facility design provides about 2,000 square feet of space for inspectors and government officials "with all the latest technology, cameras, labs, shelving and even garbage disposals…everything they needed we provided," says Sharp.
The PLRS facility is part of a multi-phase project at Port Tampa Bay, explains Elliot, with the next phase involving an express rail connection between the port and the Midwest. Discussions are underway with rail partner CSX, while the rail infrastructure itself is already in place at the port.
The goal is to optimize the transportation of time- and temp-sensitive cargoes. For example, an import reefer container of pineapples could be transloaded at the port directly into a refrigerated rail boxcar, making the reefer container available for an export shipment right away and avoid having it railed to Chicago.
An express rail service could handle both import and export business to and from the Midwest in addition to domestic perishables that have a market in Florida and vice versa, explains Elliot.
Finally, phase three of the project would be the development of a "food campus" for dry or ambient products and additional refrigerated warehousing for storage, packaging and distribution of perishable food and beverage products.
"We really see food and beverage as one of the key drivers of cargo growth at the port, both containerized and breakbulk, going forward," emphasizes Elliot.
Without a doubt, the new PLRS facility, combined with the strategic initiatives taken by Port Tampa, are impressive. What stands out, however, is that it's a favorable mix of factors—the right timing and investments, growing demand, geographic location of the port and state-of-the-art PLRS facility—that work in unison to offer an unbeatable solution for supporting the expanding food and beverage supply chain.