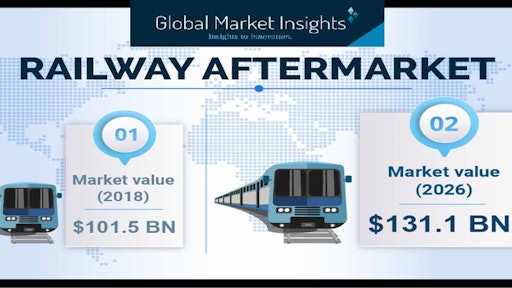 Railway aftermarket includes repairs, maintenance, replacement, and upgradation of rail components, systems, equipment, and infrastructure. Growth in the market will be predominantly driven by ongoing initiatives to replace ageing rail fleets worldwide.
Older railway fleets tend to be based on timeworn and less efficient technologies. The implementation of latest, more powerful and more efficient technology has the potential to boost overall rail efficiency for both passenger and freight transport. Global railway aftermarket size is slated to reach a valuation of more than US$131 billion by 2026., with significant contribution of OEM as well as third party service providers.
Investments in modernization of train fleets and rail infrastructure can significantly help future transport emissions. This can be linked with the relative efficiency of this mode. Railways carry considerably more shipping units per kilometer compared to road transport. In addition, rail transport consumes nearly 11 times less energy per unit.
It is estimated that upgradation of existing rail fleet and infrastructure could result in emission reductions of 0.3-3% in national transport by 2030. It could also help other modes of transport to minimize the environmental trough reduced air pollution and increased reliability. Favorable outlook towards improving the energy-efficiency of rail transport will certainly have a positive impact on railway aftermarket trends.
Impact of environmental regulations
The International Railway Association has introduced an ambitious challenge for the global transport sector in line with the climate change perspective and green growth agenda for 2030 through 2050. This includes goals to reduce carbon emissions from railway operations by 50% by 2030 and 75% by 2050 and cut final energy consumption by 50% by 2030 and 60% by 2050, relative to a 1990 baseline.
These factors will undeniably accelerate the demand for aftermarket rail components and subsystems including traction & propulsion systems, body structures, bogies, wheelsets, suspension, auxiliary systems, braking systems, and rail tracks & equipment.
In December 2018, Germany's Siemens Mobility acquired a US$850 million contract from American railway operator Amtrak for the supply of 75 diesel locomotives. The new locomotives were built to offer greater hauling power, improved reliability, enhanced safety features, and generate lower emissions. Such expansion efforts indicate remarkable future opportunities for aftermarket service providers and suppliers.
Higher initial costs associated with predictive and preventive rail asset maintenance is anticipated to be a major growth hindering factor for aftermarket players. However, growing number of high-speed rail projects worldwide will offer lucrative opportunities for the business growth.
Rapid urbanization and a booming world population are serving as catalysts for highspeed rail innovation. Faster and inexpensive, these trains will be key to meeting the burgeoning population growth demand. Highspeed rail promises to be a cleaner and more efficient alternative for short distance air travel for passengers, complementing railway aftermarket outlook.