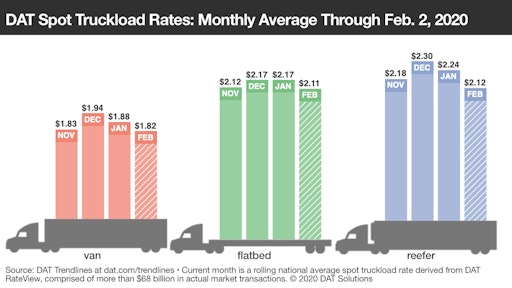 National average spot truckload rates ended January at their low points for the year and continued their slide during into February, said DAT Solutions, which operates the largest load board network for trucking and logistics.
National average spot rates, January
Van: $1.88 per mile, down 6 cents from the December average
Reefer: $2.25 per mile, down 3 cents from December
Flatbed: $2.17 per mile, unchanged from December
Rates fell during the first two days of February. Vans ($1.82), reefers ($2.12), and flatbeds ($2.11) all dropped sharply in weekend activity.
Van trends
If you need proof that peak retail season is over, look at the van lane from Columbus, Ohio, to Buffalo, New York. The average spot rate was $2.96 a mile, down 42 cents from just three weeks ago. The average van rate was lower on 81 of DAT's top 100 van lanes by volume and the national average van load-to-truck ratio was neutral at 1.6, meaning there were 1.6 load posts for every truck posted to the DAT network.
Reefer trends
The national average reefer load-to-truck ratio slipped from 3.8 to 3.4 as demand for temperature-controlled capacity continues its seasonal sag. When reefer demand cools, it tends to drag van rates down since reefer carriers can look for van loads when reefer freight isn't available.
The biggest price movements for spot reefer freight were on the losing side:
Tucson, Arizona, to Dallas: $2.19 per mile, down 19 cents
Twin Falls, Idaho, to Baltimore: $2.50, down 21 cents
Dallas to Columbus: $2.00 per mile, down 1 cent
Los Angeles to Portland: $2.69, down 15 cents
Flatbed trends
Week-over-week and month-over-month comparisons are more favorable for flatbed freight since that segment didn't get the same lift in December that vans and reefers did. While load-to-truck ratios for van and reefers fell sharply in January compared to December, the flatbed ratio rose 28 percent. The average flatbed load-to-truck ratio last week was 15.7.
DAT Trendlines is based on RateView, a database of $68 billion in annual market transactions. As the industry standard in truckload pricing, DAT's freight rate database also provides the settlement prices against which trucking freight futures contracts are traded.