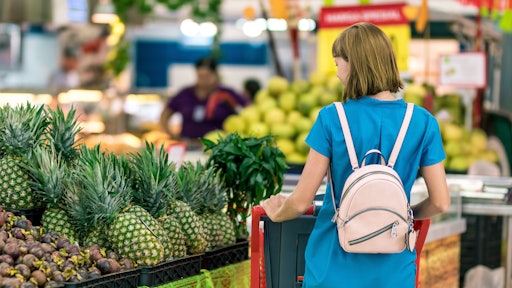 Mercatus, a provider in digital commerce solutions for grocery and other retail verticals, has partnered with Point Pickup Technologies, a company offering a single platform that solves same-day delivery challenges for enterprises across various industries. This partnership provides a quick cost-effective way for grocers to respond to increase e-commerce and last-mile delivery market demand while maintaining direct relationships.
With shopper expectations for fast and seamless grocery delivery, retailers must transform their last-mile experience to meet these needs. Mercatus' and Point Pickup's joint same-day delivery enterprise solution addresses the last mile by using a network of pre-scheduled drivers who are trained for and dedicated to a specific retailer in order to fulfill store-to-home deliveries.
Point Pickup's Micro DriverNetworks creates a scalable and sustainable approach that supports repeatable drivers that match every type of delivery criterion. The integration with the Mercatus e-commerce platform offers retailers ownership of the customer experience.
Micro DriverNetworks are:
Agile – the solution works for any enterprise retailer;
Scalable – the model works across the diversified retail ecosystem, servicing all major and secondary markets, including suburban and rural areas where you don't need the "most drivers," you just need the "right" drivers;
Sustainable – replicates best practices across enterprises, which lowers capital needs;
Efficient – uses fewer drivers and achieves higher performance by pre-scheduling dedicated drivers for specific routes.
"By partnering with Mercatus, we are able to offer their grocery retail clients an easy way to displace the problematic gig economy with a more dependable model that works for all their markets," said Tom Fiorita, CEO, Point Pickup. "It is the closest scenario to retailers owning their driver resources as local stores will see the same drivers on the same shifts on an on-going basis."
The partnership gives grocers the opportunity to own their end-to-end shopping experience from point of sale to the delivery to the customer, which results in repeat customer purchases, greater loyalty and higher profits. Retailers are now in charge of their customer experience, no longer surrendering valuable data and shopper relationships to third-party delivery providers.
"Grocery retailers face a stark choice. Continue to outsource their eCommerce experience or take steps to reclaim ownership of their customers' online shopping journey, including last-mile delivery," said Sylvain Perrier, president and CEO, Mercatus. "Together with Point Pickup, we're empowering retailers to build their eCommerce experience on their own terms to better serve their shoppers' delivery needs. We're excited for what this partnership will mean for grocers who want to offer a retailer-controlled experience."