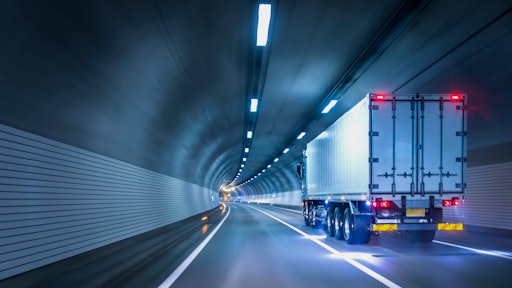 Getty Images
The Los Angeles and Long Beach port trucking company, Total Transportation Services Inc., is replacing its entire diesel fleet with near-zero emission natural gas trucks.
Currently, the company has 20 Volvo and 20 Freightliner Class 8 trucks equipped with natural gas engines.
The purchase is the largest buy of clean-engine technology of any fleet that serves the ports of Los Angeles and Long Beach. According to Fleet Owner, TTSI plans to have all of its fleet running on near-zero emissions by 2020.
TTSI made the purchase announcement with the Coalition for Clean Air in hopes to raise awareness of the importance of natural and renewable gas trucking to help improve air quality and reduce greenhouse gas emissions in the Los Angeles region.
According to the CCA, TTSI's 40 new near-zero-emission heavy-duty compressed natural gas trucks would reduce smog-causing nitrogen-oxide emissions by 90%.
TTSI has been committed to sustainability as it already has adopted alternative-fuel trucks into its fleet, including all-electric battery, hydrogen fuel-cell and hybrid technologies.
Fleet Owner reports that a quarter of TTSI's investment in the new trucks was funded through the California Air Resources Board's (CARB) California Climate initiative, a statewide program that puts billions of cap-and-trade dollars to work reducing greenhouse gas emissions, strengthening the economy and improving public health and the environment.