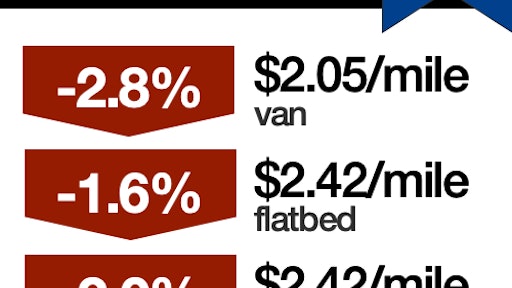 The number of available trucks on the spot truckload freight market jumped 77 percent during the week ending Jan. 12, well ahead of the 9 percent gain in available loads, said DAT Solutions, which operates the DAT network of load boards.
The surge in capacity and less urgency on the part of shippers knocked down national average rates for dry van, refrigerated, and flatbed freight:
Van: $2.05/mile, down 6 cents
Flatbed: $2.42/mile, down 4 cents
Reefer: $2.42/mile, down 5 cents
Lower fuel surcharges also contributed to the decline in rates. The average price of on-highway diesel was $2.97 per gallon on Jan. 14, down 4 cents compared to the previous week.
VAN TRENDS
Van truck posts on DAT load boards surged 83% while load posts declined 5 percent. The van load-to-truck ratio dropped 48 percent from 8.9 to 4.6 loads per truck.
Rates were lower on 84 of the top 100 van lanes by volume. Average outbound van rates from Philadelphia (-6.4 percent), Stockton (-5.6 percent), Los Angeles (-6.6 percent), and Seattle (-6.5 percent) were all trending lower; notably, these markets handle ocean cargo.
FLATBED TRENDS
Flatbed load posts on DAT load boards increased 44 percent last week while truck posts surged 94 percent. As a result, the national flatbed load-to-truck ratio fell 26 percent from 33.7 to 25.1 loads per truck.
REEFER TRENDS
Reefer capacity bounced back last week as truck posts jumped 57 percent. The number of load posts declined 3 percent, however, which caused the reefer load-to-truck ratio to fall 38 percent from 9.8 to 6.1 loads per truck.
Average spot rates were down on 62 of the top 72 reefer lanes, and average outbound rates fell sharply in many major markets:
Los Angeles: $3.03/mile, down 18 cents
Atlanta: $2.60/mile, down 14 cents
McAllen, Texas: $2.33/mile, down 15 cents
Dallas: $2.20/mile, down 19 cents
Philadelphia: $2.96/mile, down 11 cents
Chicago: $2.93/mile, down 13 cents
Nogales, a big gainer the previous week, saw lane-rates drop significantly:
Nogales-Dallas: $2.51/mile, down 86 cents
Nogales-Brooklyn: $2.56/mile, down 51 cents
Nogales-Los Angeles: $2.53/mile, down 47 cents
Volumes will likely continue to trend at lower levels until produce season breaks in southern California, Florida, and other key markets.
DAT Trendlines are generated using DAT RateView, which provides real-time reports on spot market and contract rates, as well as historical rate and capacity trends. The RateView database is comprised of more than $60 billion in freight payments.