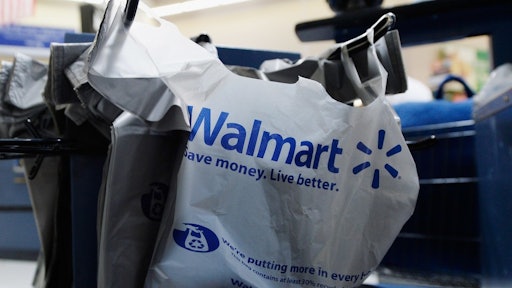 Walmart is expanding its test of autonomous vehicles as a way to deliver online grocery orders more quickly.
The company is partnering with Udelv to deliver groceries in Surprise, Arizona. Walmart has previous said that it would develop pilot programs with other self-driving car companies. The retailer plans to end the fiscal year with online grocery delivery in nearly 100 metropolitan areas, reaching more than 40 percent of U.S. households. CNBC reports that in 2019 it plans on adding another 800 stores as well. 
CNBC  reports that online grocery shopping is expected to climb 15 percent in 2019, effectively pushing the share of grocery sales that take place on the internet to 6.3 percent of overall sales. 
Brick Meets Clicks reports that companies that offer delivery and pick-up options for grocery orders could see sales grow up to 30 percent this year. Meanwhile, it is expected that by the end of 2019, at least 90 percent of U.S. households will have access to at least one delivery or pick-up service for groceries.