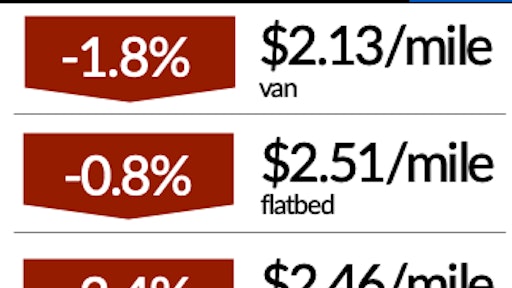 The sudden rise of Hurricane Michael had a dampening effect on freight movement in the Southeast last week and contributed to a 13 percent overall drop in load posts on the DAT network of load boards.
With weaker demand and the number of available trucks up 2 percent during the week ending Oct. 13, national average load-to-truck ratios plunged for all three equipment types:
Vans: 4.7 loads per truck, down 16 percent
Flatbeds: 18.3, down 17 percent
Reefers: 6.3, down 9 percent
National average spot truckload rates fell as well:
Vans: $2.13/mile, down 4 cents compared to the previous week
Flatbeds: $2.51/mile, down 2 cents
Reefers: $2.46/mile, down 6 cents
The national average price of on-highway diesel rose another penny last week to $3.39 per gallon.
VAN TRENDLINES:
Spot van load posts fell 15 percent on DAT load boards and truck posts increased 1 percent. Average spot truckload rates fell on 70 of the top 100 van lanes on DAT load boards. Notably, average spot prices out of Atlanta ($2.32/mile) and Charlotte ($2.45/mile) were neutral despite all the canceled shipments from there to Florida.
Key lanes moved lower:
Columbus, Ohio, to Buffalo: $3.64/mile, down 14 cents
Allentown, Pa., to Boston: $3.93/mile, down 13 cents
Chicago to Los Angeles: $1.51/mile, down 12 cents
REEFER TRENDLINES:
Spot reefer load posts on DAT load boards were down 8 percent and truck posts increased 2 percent compared to the previous week.
With Hurricane Michael approaching swiftly, shippers, brokers, and truckers in the Southeast rushed to get reefer freight out ahead of the storm. Volumes were up 48 percent out of Lakeland, Fla., and rates rose 5 percent. Key lanes:
Atlanta to Miami was up 17 cents to $3.07/mile
Green Bay to Wilmington, Ill., jumped 29 cents to $3.78/mile
Aside from that Green Bay lane, other Midwest reefer lanes retreated from the peaks of recent weeks. The region still has some of the highest prices in the country, despite sharp drops in the rates out of Chicago ($3.06/mile, down 15 cents) and Grand Rapids ($3.56/mile, down 9 cents).
FLATBED TRENDLINES:
Flatbed load posts fell 15 percent from the previous week, while truck posts increased 3 percent. Rock Island, Ill. ($3.14/mile, down 20 cents), Las Vegas $3.33/mile, down 22 cents), and Houston ($2.99/mile, down 2 cents) were among the bellwether flatbed markets on the decline.