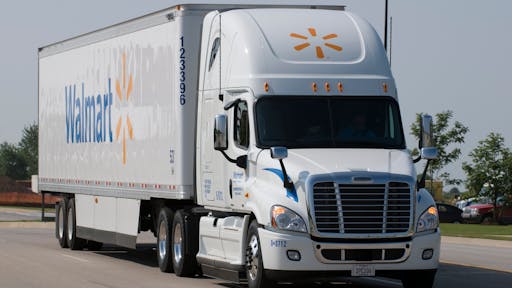 Bloomberg reports that Walmart is planning on doubling its spending to attract and retain drivers by the end of the year. 
Walmart will reportedly offer referral bonuses of up to $1,500, shorten the on-boarding process for new hires and broadcast a national TV ad focusing on its truckers. According to Bloomberg, the program aims to fill vacancies and improve the image of long-haul driving as a career amid a tight labor market. 
The driver shortage reached 296,311 unfilled positions in the second quarter, FTR Transportation Intelligence reports. Rising fuel prices, wage hikes and higher demand is shrinking Walmart's profit margins, and is one of the reasons why its shares are so low this year. 
Truckers are necessary for Walmart's distributing process. Bloomberg reports that the retailer's drivers take goods from distribution centers around the country and delivery them to its stores in a hub-and-spoke system that allows quick restocks. 
Currently the company only hires seasoned drivers, and new hires can earn upwards of $86,000 a year, Bloomberg reports. Walmart's driver turnover has been historically low over the last few years, but recently has seen more truckers leave for new companies or retire. 
Bloomberg reports that Walmart is starting to hire "non-traditional" drivers to fill the gap. Aurelia Yoho, who has worked for Walmart for the last two years, tells Bloomberg that she hauls loads five days a week in Pennsylvania and can travel as far north as Vermont. While she works long and hard, Yoho wishes the hiring process wasn't so tedious. Currently, the hiring process for a driver takes up to 70 days, and the company wants to trim that down to just 30. 
In Walmart's new TV campaign, the company plans to show drivers that are not 50-something white men in order to attract new drivers, Bloomberg reports. 
To read the full original article, please click here.