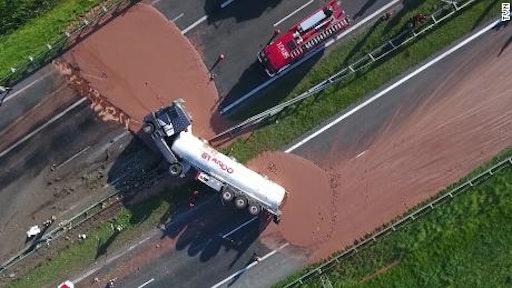 A truck carrying 12 tons of liquid chocolate overturned in Poland, causing its content to spill out onto the road.
All four lanes of the highway connecting the city of Poznan to Warsaw were covered by chocolate, the New York Times reports. Social media users were quick to show the carnage.
Liquid chocolate has stopped traffic on the motorway A2 in Poland in both directions and now it's solidifying 🤣🤣 Not quite funny I know. pic.twitter.com/Cq4S1Vl21D

— Jojoann (@JojoannWarsawPL) May 9, 2018
The reason as to how the truck overturned and obstructed lanes of traffic in both directions.
The chocolate started to solidify and the New York Times reports that authorities said it would be hours before the road was deemed usable again.
Eventually, a bulldozer came to push the chocolate out of the roadway. A spokesman for the fire brigade said the slippery surface of the chocolate was more of a hazard to drivers than snow is.