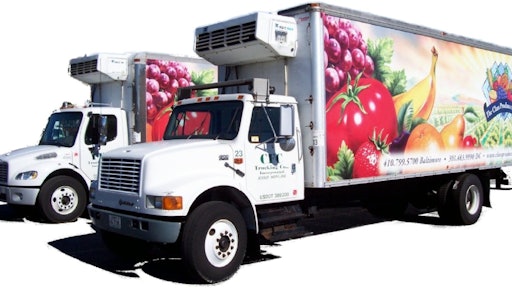 Industry associations have asked the Federal Motor Carrier Safety Administration for a two-year exemption on electronic logging device mandate for trucks carrying agricultural commodities.
A current ELD mandate waive that postponed trucks carrying produce and other agricultural products ends on March 18.
In a letter submitted by more that 20 produce companies said, "With the electronic logging device (ELD) mandate, driver shortages and other issues, there have been considerable increases in transportation costs for fresh produce causing devastating effects on our industry. We are hearing from many of our members across multiple commodities and sectors throughout the country that shippers are having to pay two or three times, occasionally more, the normal rate for transporting their product."
Feedback from producers and trucking operations indicate many ELDs on the market are not able to accommodate the agricultural exemptions that is provided under the hours of service regulations.
The letter continues, "We believe that this extension would provide a reasonable period of time for FMCSA to work with the technology providers in developing a program to verify that the ELDs on the market can perform the tasks that the rule mandates and all trucks hauling agriculture commodities to fully utilize the 150-mile exemption."
The coalition is asking the agency to consider hours-of-service modifications to accommodate the realities of loading and unloading fresh produce.
The companies have also asked the FMCSA to:
Allow packing facilities, cold storages and other locations to be considered as a "source" location under the hours-of-service regulation.
Allow the agricultural exemption's 150-air-mile radius to begin at the final pick up point for multi-point pickups. Drivers make multiple pick-ups from small packinghouses or cold storage facilities to fill their load before continuing to final destinations. "We would encourage the 150 air-mile radius to begin at the location of the last pick-up point so as not to disrupt current supply chains and accommodate the operational efficiencies organically created by the marketplace over the last 100-plus years," according to the letter.
Clearly define that empty trucks are covered under the agricultural exemption. According to the letter, agricultural exemptions should be clearly defined to include unladen trucks as eligible if they are traveling to a facility exclusively to pick up an order.
To read the full original article, please click here.