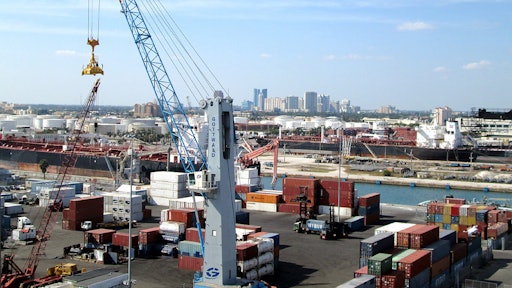 Florida Gov. Rick Scott has threatened to strip state funds from two South Florida seaports ready to sign business deals with the Cuban government.
Over three posts on Twitter, the governor said he would ask state lawmakers to restrict dollars for ports that "enter into any agreement with [the] Cuban dictatorship"—as Port Everglades and the Port of Palm Beach plan to do this week.
"We cannot condone Raul Castro's oppressive behavior," Scott tweeted in English and Spanish. "Serious security/human rights concerns."
Scott's position came a day after the first legal cargo from Cuba in more than half a century—artisanal charcoal—arrived Tuesday in Fort Lauderdale's Port Everglades. The Port of Palm Beach is located in Riviera Beach.
Jackie Schutz, a Scott spokeswoman, said the governor takes issue with the ports inking memorandums of understanding with the Cuban government because he "firmly" believes the U.S. should not do business with Cuba "until there is freedom and democracy."
The governor will make his request to the Legislature, which ultimately sets the state budget and can ignore Scott if it wishes. The Florida Department of Transportation's budget shows more than $37 million budgeted for Port Everglades projects over the next five years — including $23 million for a dredging the port has sought for three decades — and $920,000 for the Port of Palm Beach.